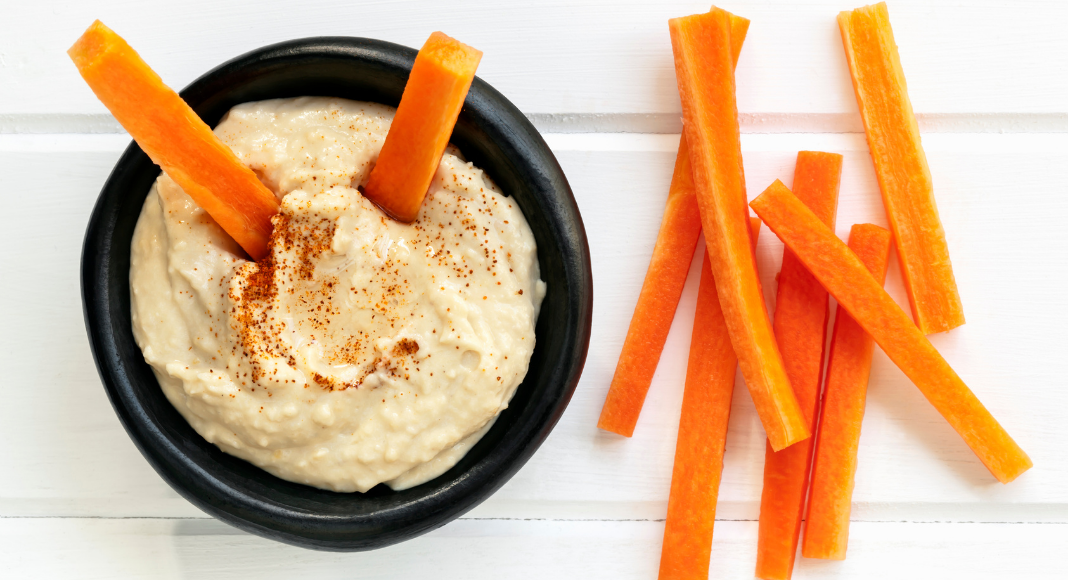 My household goes through a ton of hummus. Seriously. My husband alone can polish off one of those giant tubs from Costco in a week. We put hummus on everything: toast, bagels, in lunchboxes to dip pretzels or veggies, smear some on a tortilla for a wrap, or, if you're my 1 year old, just right off the spoon! Chickpeas are an excellent source of protein and fiber. Add in the olive oil and you've got lots of healthy fats too. Hummus is the perfect snack for my growing kids! Added bonus? It's a lot cheaper if you make it yourself at home and SO easy! And it's super customizable so the flavor possibilities for homemade hummus are endless.
Here's my go-to recipe for basic hummus:
Ingredients:
1 can chickpeas (approx. 1.5 cups)

I always stock up on dried chickpeas (or garbanzo beans) whenever I go to the store and use Alton Brown's recipe to make a big batch in my crock pot. I'll use some for hummus, keep some in the fridge for salad toppings or soups and will freeze the rest!)

1/3 c tahini
1 lemon, juiced
2 cloves garlic
2 tbsp olive oil
1-2 c fresh herbs (today I used chives, cilantro and dill)
salt, pepper
Steps:
Add all ingredients to a food processor and process until combined. Voila!
That's it! See, told you homemade hummus was that easy to make.
Here are a few tips to keep in mind:
If the hummus seems too thick, thin it out by adding more olive oil and/or water one tbsp at at time.
You can also throw in a cup or so of roasted red pepper! I've also added roasted beets, which makes the hummus the most beautiful vibrant pink!
To really go all out, I'll often top the hummus with chopped tomatoes, kalamata olives, cucumber and feta.
What's your favorite way to eat homemade hummus?