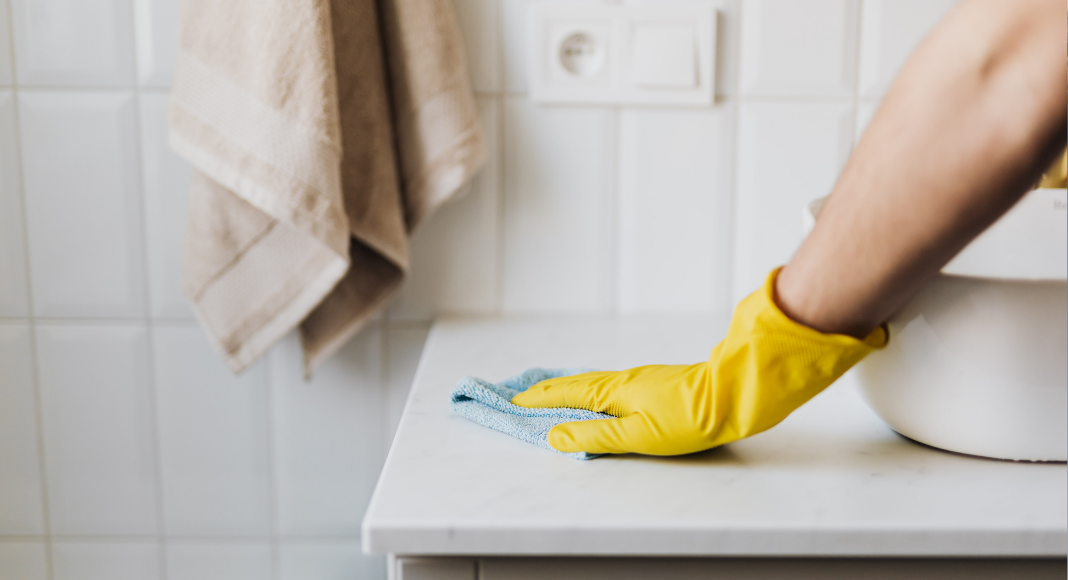 Let me start this by saying; If you have are someone that can thrive in the normal chaos created by motherhood, work, life, and whatever else comes your way- YOU ARE A GREAT MOM (also, come teach me your ways.) If you're like me, which also means you're killing it, and you constantly feel overwhelmed by the running list of a bazillion different things you "want" to do, "need" to do, and "wish" you could do…c'mon over to the dark side and join me…on TikTok. Ok, I know you're thinking that I'm a geriatric millennial who can barely operate an Instagram account, and I REALLY don't need another social media form. I'll be honest, I wandered over more to see what all the fuss was about and because a few of my more "hip" friends kept sending me HILARIOUS videos. While there though, I discovered, wait for it…."CleanTok."
Yep. Satisfying videos of people out there in the wide world, cleaning things. Have a stain around your faucet you've never been able to get out? I bet there is a cleaning hack on TikTok that you never knew you needed. Molly, meet Rabbit- falls into hole. As I watched, though, I fell into the world of zone cleaning and The Fly Lady. Our lives have changed dramatically in the last 2+ years; I've lost routine. With the pandemic, I've found that feeling like all I had was time with nowhere to go meant that I gave myself permission to do just that…nothing. I've accepted that surviving and not thriving was how I managed quarantine, eLearning, isolation, and social distancing, which is ok by me. As the New Year came around, though, I felt like I had to figure out how to accept my new normal and establish some new routines, but starting them after two years of pajama pants was scarily overwhelming.
So I watched. I watched an embarrassing amount of videos about cleaning. I mean, people scrubbing things. Cool gadgets, awesome sponges, label makers, clear bins to organize to your little hearts fair to bursting. Suddenly, I found myself MOTIVATED to start. To start climbing out of the hole; you see, with no one coming over and nowhere to rush off to, I felt like I'd lost more than just seeing friends, or kids going to practice, dinner dates- I'd lost that feeling of peace and calm that I could find in being and coming "home." What I needed, though, was some guidance. I didn't want to go all-in, join the gym, work out three hours every day and burn out. I wanted longevity. I wanted a habit, and I have no problem saying that I needed help establishing a routine after being completely adrift for two years. Pre-pandemic Molly and new-normal Molly needed to find a way to meet in the middle. I happened (in my voracious scrolling) upon a mom that seemed like she had found the answers, and I consumed all of her tips and tricks.
I wanted to streamline my home into an organized and somewhat scheduled clean space in an effort to feel more at peace in my environment- No more feeling pulled in a million different directions- I want lists; I want routine again.
Welcome, The Fly Lady. There's a book (I quickly stopped reading this because I found it to be representative of some antiquated homemaker 1950's housewife roles- and I am not about that life.) There is a daily email list that was, in a word, overwhelming. There is an App, though, and this is where I found my Goldilocks juuuuuust right moment.
This is all about establishing habits; I had to figure out what habits worked for me and what I just couldn't do or didn't want to do. The first step is to 'shine your sink,' this is more than just cleaning and disinfecting your sink every night. Every morning I start with a clean slate, that dirty dishes don't pile up but go straight into the dishwasher or get washed right away. I found that this also leads to clean counters and a clutter-free kitchen.
The next habit isn't my favorite; Dressed to shoes—every single day. We are not a shoe-in-the-house family, and I think I've worn real pants less than ten times in the last two years, but prioritizing washing my face, drying my hair, and putting on daytime leggings is good for me; it makes me feel ready to start a new day.
Then there is the "swish and swipe" this is a daily swish of your toilets and a swipe/wipe down of your bathroom counters…this seemed like a lot in the beginning, "every day?!" I'm here to tell you that it works; daily maintenance of my bathrooms means I deep clean them once every FIVE WEEKS, and that's it!
Each area of your house is broken into zones, each zone gets a week, and it is deep cleaned and organized, down to washing curtains and cleaning your kitchen vent hood filters (yes, you have those.) Set a timer for 20 minutes and tackle a couple of things from each zone every day. The miracle of zone cleaning does NOT happen in the first five weeks- the first five weeks were not quick or easy for me. They meant purging, organizing, buying those containers I saw on the "Home Edit" and even a label maker. Neglected cabinets, junk drawers, that pile of paper that lives somewhere tucked in the corner of your kitchen. It felt overwhelming and like all I did was clean, but we, as a family, had let it pile up, and we were going to persevere.
The miracle of zone cleaning was on week six when I was back in the laundry room and needed to organize the cabinets. I opened them up, and everything was still where I had put it those weeks before. So I wiped down my washing machine and mopped the floor and I went and read a book. "A Place for Everything and Everything in its Place," who knew? As I round out my second month, I'm still shocked that this seems to be working. I have more time, less guilt, and feel like I'm finding my way; finally.