Summer is here and everyone in your house is ready for a change of pace! Routines are different. Some are busy and other families may be wanting to take it easy as they step more into spaces with vaccinated friends and family. Whatever summer speed you take, there is always time for a new book. It is not any wonder that after months of quarantine and canceled events in theaters and venues that writers, illustrators, and artistic thinkers of all professions were left with nothing but time to create!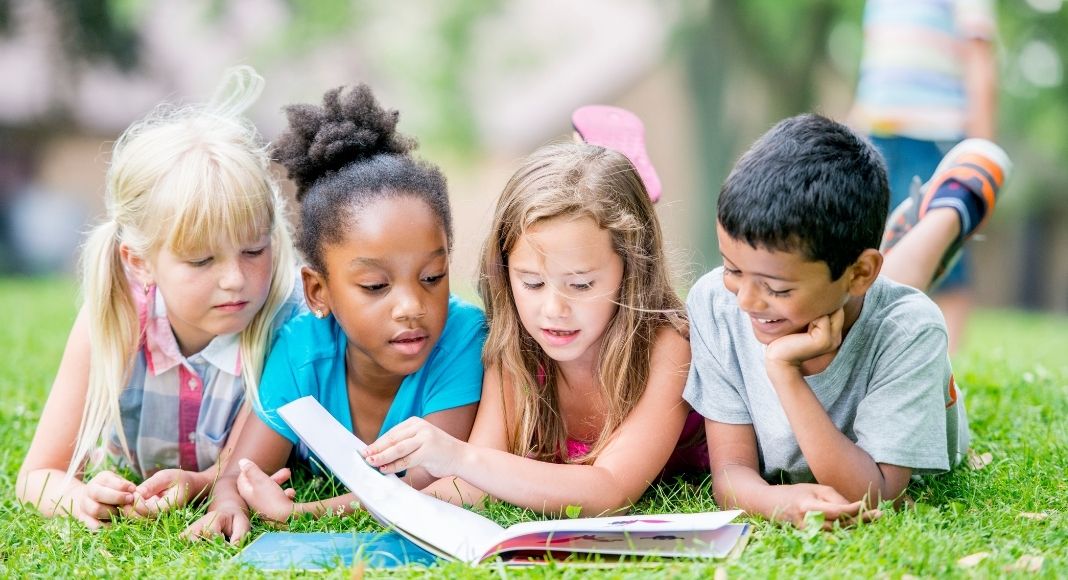 Touching on a wide range of topics and interests that explore immigration to finding supernatural powers, they also feature diverse characters of races and abilities (books that de-center straight/able-bodied/whiteness).
Here are ten new books of 2021 to add to the playroom library or your teen's bookshelf.
Baby Yoga: An ABC of First Poses

by Isabel Serna, Jennifer Eckford (Ages 0 – 3)

It's babies. It's yoga. What a perfect way to introduce your young one to these basic concepts of mindfulness with letter recognition.

Outside Inside

by LeUyen Pham (Ages 3 – 6)

A beautiful story written by a Caldecott honoree, LeUyen Pham is specifically written for our older toddler to first-grade children about Covid-19, essential workers, and family. This particular line is just so lovely: "While the world changed outside, we became stronger on the inside and believed that someday soon spring would come again."

Watch Me: A Story of Immigration and Inspiration

by Doyin Richards, illustrated by Joe Cepeda (Ages 4 – 8)

This well-illustrated and simply told picture book helps readers learn of the author's father who immigrated from a country in Africa as a child. He ties all of the hardships that immigrants from all areas of the globe face and allows us to teach our children to empathize with these dreamers.
Song in a Rainstorm: The Story of Musical Prodigy Thomas "Blind Tom" Wiggins

by Glenda Armand, illustrated by Brittany Jackson Ages 4 – 8

I am constantly being introduced to new Black world-changers I was never told of – especially in the arts. Born blind and enslaved, this piano prodigy went on to play the greatest concert halls in Europe! This is a must-have picture book!

C Is for Country

by Lil Nas X, illustrated by Theodore Taylor III Ages 3 – 7

Join Lil Nas X and Panini the horse in ALL things cowboy and country with this lyrical book made especially for emerging and developing readers.
Amari and the Night Brothers by B.B. Alston Ages 8 – 12 A missing brother and the only clue is in a hidden briefcase in his closet that is ticking. Get ready for magic, supernatural powers, fairies, and more. B.B. Alston has written a page-turner that will be tough to put down! This is a definite buy for your independent readers or as a cuddle-up read-a-loud together.

What Are Little Girls Made Of? Nursery Rhymes to Empower Young Feminists

by Jeanne Willis, Isabelle Follath Ages 7 – 10 and up

Author, Jeanne Willis has taken centuries-old nursery rooms and re-mixed them to allow her readers to imagine a female doctor fixing Humpty Dumpty, or if Georgie Porgie never made the little girls or how Little Bo Beep is a boss woman and all of her sheep are just fine. I absolutely love how Willis is teaching her young readers what is missing from these old tales and helping them develop what they could be.

The Story of John Lewis: A Biography for Young Readers

by Tonya Leslie Ages 6 – 9

I can never have enough biographies on my shelves! Lewis, a man who marched with Dr. King, beaten for his fight for equity, and jailed but pushed through with unbelievable grace and resilience to continue his message of love. He left us too soon but our children must learn about Mr. Lewis and how to get in "good trouble". A must-have for the library.

The Beautiful Struggle

(Adapted for Young Adults) by Ta-Nehisi Coates Ages 12 – 17

In-demand writer and New York Times best selling author, Ta-Nehisi Coats, has adapted his memoir suitable for twelve through seventeen-year-olds to teach on his upbringing in Baltimore, his relationship with his father, and being a Black teenager. Coates fills every page with visual and literary messages that will engage this age group.

Happily Ever Afters

by Elise Bryant Ages 14 – 17

Author Elise Bryant created Tessa Johnson, a sixteen-year-old writer who finds herself at a loss for words after being accepted into a creative writing program with a well-known art school. With the help of her friend, Caroline she decides to step into the roles of her characters with hopes that she will gleam inspiration and emerge from her writer's block.
These are just a few of the newest books to choose from but if you would like more information on continuing to diversify your library this summer check out these user-friendly sites:
www.hereweeread.com and www.whatdowedoallday.com
After researching so many books for this article, it seems I may need to find a second job just to pay for them! There are SO many great summer book options.
Happy reading! Happy learning! Happy summer!