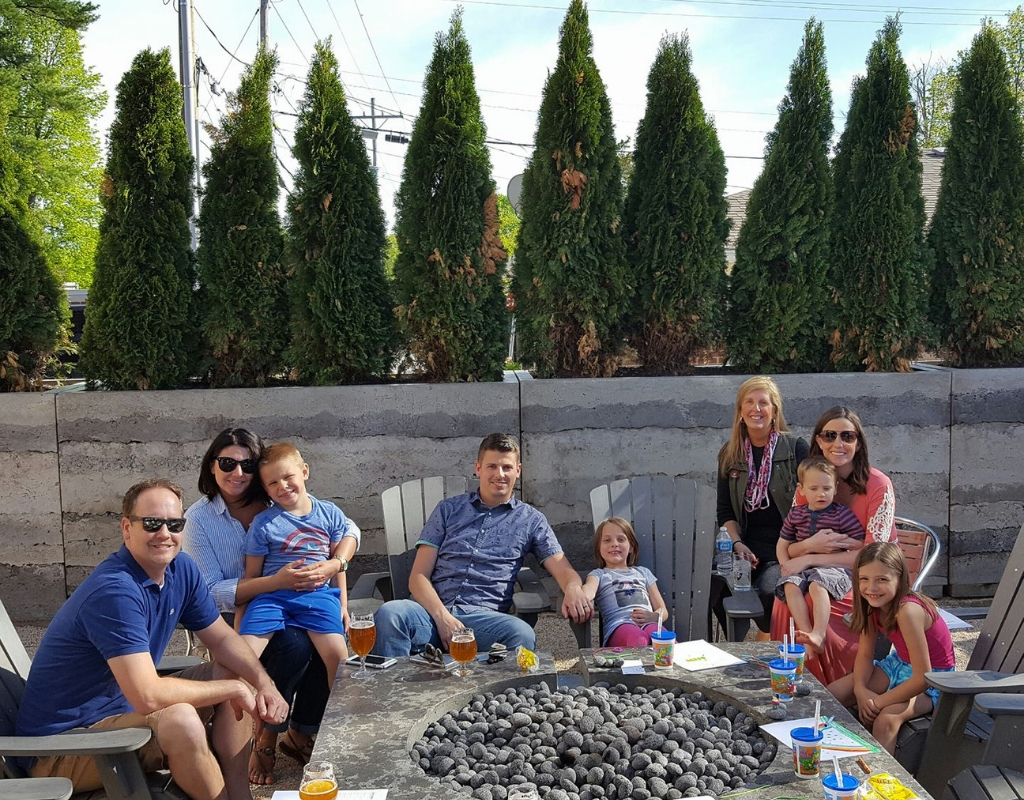 Is there anything better than sitting outside with your favorite beverage? For me, not much! I'm a big craft beer fan. And as soon as the weather turns nice, our family spends a lot of time outside, even for meals. Here are a few of our favorite kid-friendly breweries around Indianapolis that offer outside dining – so that means no babysitter required!
1. Triton Brewing Company. Triton Brewing is tucked away near Fort Harrison. The state park offers a variety of activities including hiking trails, biking trails, and fishing. It's the perfect opportunity to create a whole day of outdoor fun. The outside space at Triton offers sidewalk chalk and bags to keep the kids occupied. The brewery has also added a bistro with small plates, sandwiches, soups, salads, and entrees.
2. Upland Brewery. As an IU grad, Upland holds a special place in my heart. The Carmel location is kid-friendly and also dog-friendly on the patio. They don't officially have a kid's menu, and their selections change often, but my kids always find an appetizer or something to share that they love. Upland is also known for having tasty vegan and vegetarian options on its menu. I personally like all of their beers, but if you are a sour beer fan, you'll really like Upland; they have some of the best and most unique beers in the city. They offer 12 year-round beers with additional rotating seasonal selections. Upland is also located just a half-mile from the Monon Trail if you want to work up an appetite before your meal.
3. Broad Ripple Brewpub. This is Indiana's first brewpub and oldest operating brewery in the state. New breweries seem to be popping up everywhere, so it's nice to check out a place with a little history. The menu here is huge, including the kid's menu with ten choices. The outside patio is one of the best for people watching and outdoor games.
4. Four Day Ray. This brewery has one of my favorite patios. It's modern but welcoming and also secluded, so you aren't overlooking a parking lot. I also find the food to be top-notch. This brewery is located in the Fishers Nickel Plate District, so there's also the opportunity to catch a local event or concert in downtown Fishers.
5. Sun King Brewing. Now with three locations, Sun King Brewery has really grown but still feels like they've stayed true to their roots and consistently produces great beer. It wasn't always the case, but kids (and dogs) are now welcome on the patio at the downtown location. They offer the always reliable staples, but also some small-batch varieties that are still worth a try. There's a great selection of board games to keep the kids entertained for an entire afternoon. They have expanded to Fishers at the Fishers Test Kitchen and Midtown in Carmel. There are tons of outdoor games at the Carmel location and even a splash pad right by that will allow the kids endless hours of fun while you enjoy a cold drink on a nice night!
6. St. Joseph Brewery & Public House. This brewery is housed in an old church and is definitely one of the more unique breweries around the city! The menu is outstanding and offers a huge selection. Even if you plan to eat outside, definitely check out the interior. If you get a chance, walk upstairs just to get an overview of the place.
7. Grand Junction Brewing Company. Located in an old lumber company in Westfield, Grand Junction is a quaint and cute local brewery to visit! They are a true mom-and-pop success story and have a variety of craft beers they make right in their brewery.
8. Big Woods Speedway. This place is enormous, and we love the Speedway location. Main Street has come a long way in recent years, so it's fun to take a quick stroll or a drive around the race track before or after your meal. They have 50 beers on tap, and the signature pulled pork nachos are enough for our whole family of four to split.
9. Danny Boy Beer Works. This brewery is tucked inside the Village of West Clay. They feature 10 of their own beers and 30 guest taps. Danny Boy has an exceptional menu (including mac and cheese both kids and adults will love), occasional live music, and games you can take to your table. They also recently launched a line of spirits if you're in the mood for a cocktail instead.
10. Mayfair Taproom. This place is located on the eastside of Indianapolis. The signature Mayfair burger and gravy fries are delicious. And if you and your family want to have dinner out on a Monday night to skip the cooking for one night, Monday is Pint Night at Mayfair with $1 off every 16 ounce draft.
11. MashCraft. We love all three of their kid-friendly locations, but the Fall Creek location offers a huge garage door that they open up during nice weather. There is a kid-friendly section with tons of cards and board games. They offer fun trivia nights – they've even done Nickelodeon and Disney trivia in the past.
Share with us your favorite kid-friendly breweries around Indianapolis!