Everyone has a personal dream to dispel on one hobby or topic for a Ted Talk, outside of their professional career, that they are vehemently passionate about. For some, it's sports, for others it's DIY projects, and then there are those of us who would give anything to provide the world a daily rundown on BRUNCH! If I could, my dissertation for a doctorate would be based on the topic of a quality brunch experience. Then this thing happened – a child – and suddenly brunch locations that also saved our parenting sanity became "a thing" for us. With the warm weather and patios, as well as the onslaught of Mother's Day and Father's Day on the horizon, a handy list of family-friendly brunching – for particular "speeds" of parenting – is good to keep on-hand! Each of these presents their own little eccentricities that make for a great brunch when experienced with the kiddos. What are the easiest and best Indy spots to brunch with babes? Look no further…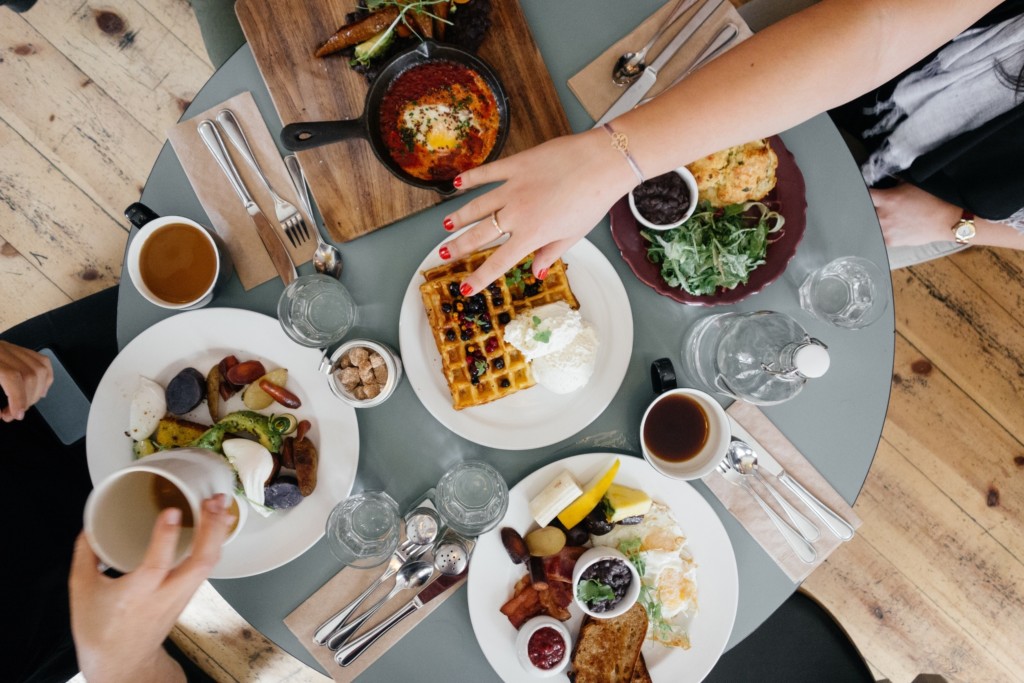 1. Granite City; 150 W 96th Street (there is also the downtown location), Sunday Brunch 9 am – 2 pm. Pro Tip: Make a reservation! Or arrive early! The draw to this one is their buffet which varies the offerings, but spans from good ol' bacon and eggs to BBQ mac n cheese. Look to the left of the buffet and what you have, included in the buffet, is also an omelet bar, eggs Benedict bar, AND a donut bar (picture an ice cream sundae bar but for donuts!). Also, CHILDREN UNDER 5 ARE FREE, guys!!! Yes, FREE! For our family of three, we all ate the buffet AND my spouse and I enjoyed the "infinite" mimosa (although the Bloody Mary bar was hard to pass up) for under $55.00.
2. Just Pop In; 6406 Cornell Ave. Indianapolis, Why do I love this spot? The bistro puts out a total "vacay vibe" similar to how it feels hitting brunch on the coast of southern California which is sometimes HUGELY needed when eating with children (bless their hearts). Why your kids will love it? They offer a "corn dog" brunch concept that's a pancake-wrapped sausage-on-a-stick. No-brainer. While your kiddos are trying to dip that deliciousness into syrup without making a mess, YOU can sip one of their specialty cocktails from the bar which puts out a little "Gatsby" vibe. Moral of the story, you will feel like a sassy, glammed adult, all while wondering if your little one may or may not need a new diaper. Samantha Jones and Miranda Hobbs would BOTH be proud of you.
3. The Loft at Trader's Point Creamery; 9109 Moore Rd., Zionsville, Need a little more "dressed up" brunch option for a nicer occasion, but not quite the feeling of uppity-yuppity? Look no further than this farm-to-table, organic deliciousness. Arrive early to avoid a long wait. The table sizes are nice for a family get-together, and the opportunities to keep everyone satisfied from the menu are endless. Keep in mind that the prices reflect a self-sustained business (ahem – chocolate milk from the cows out back tend to come with a cost for such joy!). The kids can eat and then check out the sights on the farm which does include a few farm creatures like cows. If you have never made this field trip to Zionsville for this place at dinner because you and the spouse agree that life is just too busy to coordinate a sitter, then the brunch option is great to make you feel like "dining out" humans (but with kids) again. Do it.
4. Metro Diner; multiple locations on all sides of town – WOO! Why I love this spot? The business hours are EARLY (7 am)! Kids are up early, and sometimes we just need to get out of the house ASAP on these beautiful spring weekends. This place is a perfect spot before the farmer's market. Two items to note as #goals for our bellies: Fried Chicken and Waffles – complete with a strawberry butter that literally looks like an ice cream scoop, and the Breakfast Pie which is essentially a breakfast pizza (and remember gang, ANY pizza is a personal pan if you believe in yourself) It's a typical diner environment which I joyfully indulge in as it reminds me of big cities with their bustling noise – key word being NOISE – kids are always a welcome entity in places of noise. 'Nuff said.
5. Finally, my favorite spot on the list, Northside Kitchenette; 6515 N. College Ave. Indianapolis; One word, moms: Frozé. Also, another phrase that's music to a parent's ears: little-to-no wait. This place is great for those working on a short time-table OR for those wanting to linger. Great for all speeds on the weekend. Particularly nice that they offer a $5 ½ order of B&G (that's biscuits and gravy for you brunchin' newbies – yes, we have a language and coding. Although a Rosetta Stone does not yet exist for us). It's the perfect size for the kids and filling as well as duh-licious! Also, Kitchenette is a great spot for any attire. Seated next to us recently was an adorable little tyke in her ballet leotard while Dad was in a ball cap. Laid-back but also providing that "Rosé all Day" vibe that again, makes us parents feel like we are humans amid those that are still living un-tethered to a child.
Happy Brunching, friends! There are TONS that I did not mention and many that have their own variations of these locales mentioned above, but one thing is undeniable; Your grandma used to tell you that breakfast is the most important meal of the day. She was right…it's even better when you can rightfully enjoy it on your own terms. Thank you for coming to my Ted Talk.