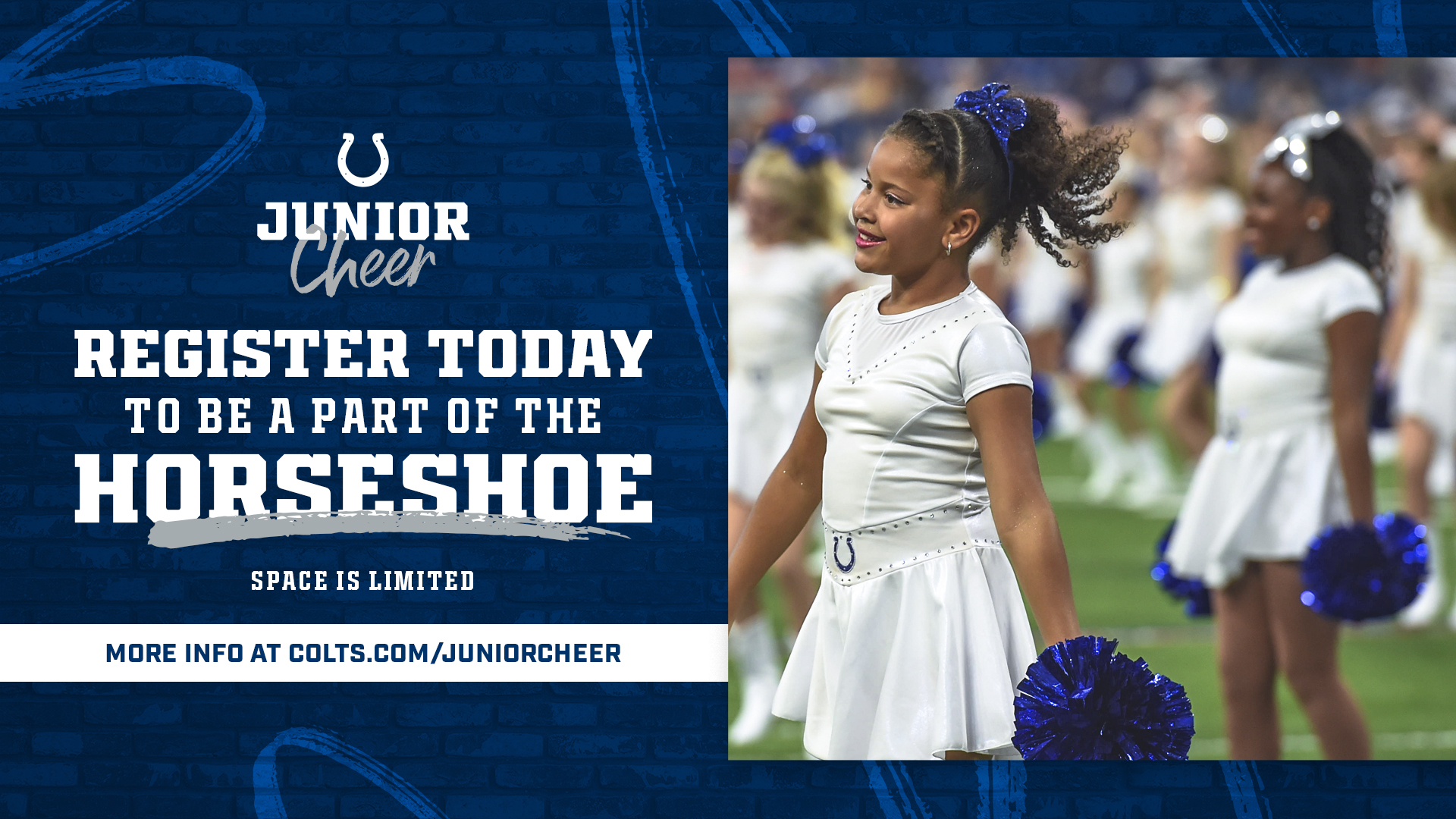 Registration for the Indianapolis Colts Junior Cheer program is now open! Curious about what the program entails? We have all the details for you!
What is the Junior Colts Cheerleading Program?
The Junior Colts Cheerleading program is designed to promote positive self-esteem, respect, dedication and discipline among youth ages 3 to 14. Led by the Colts Cheerleaders, this program offers the unique opportunity to participate in exclusive performances with the squad. Participants not only will learn the basic performance fundamentals of cheerleading and dance through a monthly clinic, but also will experience community and public relations aspects of what is takes to be a Colts Cheerleader.
How do the Clinics Work and What is the Commitment?
The Junior Colts Cheerleaders clinics will be held throughout the months of June-December. Clinics are typically on Saturdays, but there is a chance for a Friday or Sunday clinic. The focus will be on learning choreography that will be utilized for exclusive performance opportunities, as well as a special routine that will be performed at a recital at the end of the season. Clinics also will focus on important virtues of being a Colts Cheerleader, such as humility, respect and teamwork. We will discuss these topics and challenge participants to apply them in their own lives.

What are the costs?
There is a $25 registration fee and tuition is based on age groups. Tuition covers all clinics, performances and events for the athlete and can be paid in full or in two payment plans. If you note you heard about the program from Indianapolis Moms, you get $25 off!
Tuition Costs:
Ages 3 to 5: $205
Ages 6 to 14: $280
The Junior Colts Cheerleaders' uniform is a replica of the Colts Cheerleader "here uniform!" This includes the uniform dress, boots, poms, t-shirt and hair bow. The total cost for the uniform for new members is $262.15.
Registration for the Junior Colts Cheer season runs now until May 31st. Don't forget to mention Indianapolis Moms when you register for $25 off too!