If you are planning to move to Indianapolis or relocate to a different side of town, Indianapolis Moms has got you covered! We are excited for Part Four of our four-part series with Miranda Tworek, Real Estate Broker with Ever Indy Realty Group. Miranda is going to take you through the Westside neighborhoods near Indianapolis, introducing you to the most sought-after suburbs and highlighting reasons why you and your family should consider moving there. And don't forget to check out Part One: Central and Downtown Indianapolis, Part Two: Northside Neighborhoods, and Part Three: Southeast Neighborhoods.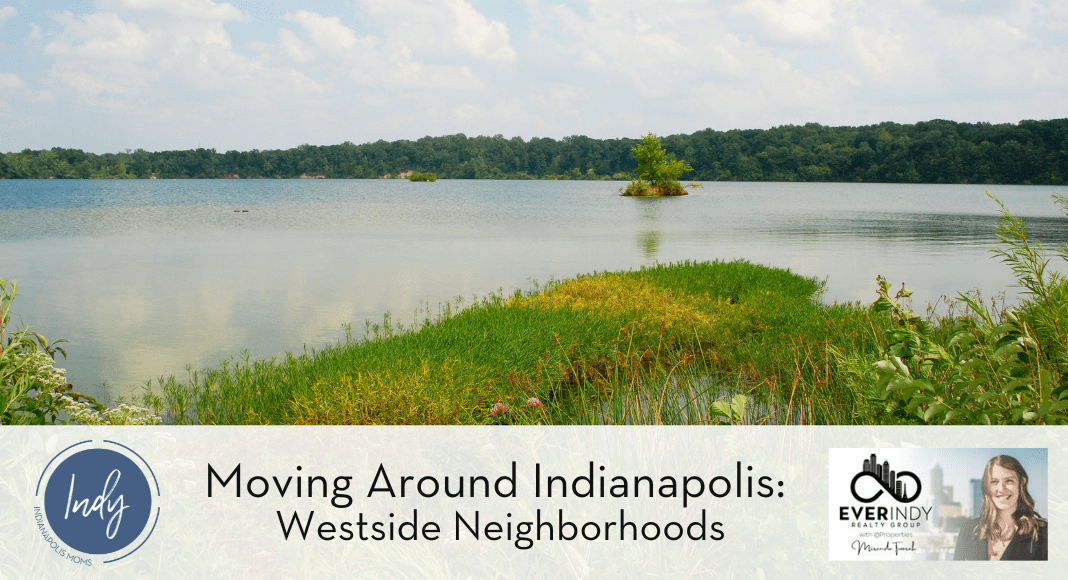 Why do families love the Westside neighborhoods near Indianapolis? Families love the small town, friendly communities close to Indianapolis, according to Miranda. The west side near Indianapolis has a large number of great parks and unique locations for you and your family to be tourists in your own town. Miranda highlights the five popular Westside Indianapolis suburbs below: Eagle Creek, Brownsburg, Avon, Plainfield, and Camby/Mooresville.
Parks and Trails
Museums/Things To Do
Notable Schools
---
Eagle Creek
Website: Eagle Creek Neighborhood on Niche
Price Point: $200s-$400s, most homes being sold at the $280,000 price point for the past year
Known For: Rick's Cafe and Boatyard, Traders Point Creamery, Eagle Creek Park Beach, Gaia Cafe and Botanical, Boathouse Grill
Miranda's Take: Still in Marion county, this collection of neighborhoods closest to Eagle Creek Park deserves its own highlight. Living in Eagle Creek makes you feel like you've left the city while still being a quick drive to 465 and/or downtown Indianapolis. Families will enjoy easy access to Eagle Creek Park and all of its amenities, older, unique homes varying in size and style, mature trees, and hiking, boating, and birdwatching opportunities all within 15 minutes of the city.
---
Brownsburg
Website: Town of Brownsburg
Price Point: $250,000-$500,000, most homes being sold in between $375,000-$400,000 in the past year
Known For: Best Friends Coffee and Bagels, Hilligoss Bakery, Mandy's Ice Cream, Rush Off Main, BRU Burger Bar
Miranda's Take: A rated schools make this a coveted suburb for families. In Brownsburg you'll find a quaint Main Street, beautiful older homes, and a large amount of diverse and friendly new built neighborhoods. Families will enjoy no shortage of parks and things to do with the kids, close access to Eagle Creek Park, and a short drive to access the heart of the city.
---
Avon
Website: Town of Avon
Price Point: $200s-$400s, most homes being sold at just above $300,000 in the past year
Known For: Hendricks Regional Health YMCA, Magoo's California Pizza, Frost Bite, Big Apple Bagels, Cabin Coffee Co.
Miranda's Take: Directly and conveniently just west of Indianapolis you'll find Avon. With no shortage of shopping amenities, good eats, and parks and activities to enjoy, this is a popular suburb for busy families. Older homes and neighborhoods in the area offer ranch style and custom built homes on larger lots. Families will also enjoy the option of newer built neighborhoods offering community building and family friendly amenities.
---
Plainfield
Website: Town of Plainfield
Price Point: $250,000-$450,000, most homes being sold at $350,000 in the past year
Known For: Oasis Diner, Brew Link Brew Pub, The Prewitt Restaurant, The Coachman Restaurant, Goody's Family Restaurant, Two Chicks Whisky Business, The Frigid Frog, Timber City Coffee
Miranda's Take: This southwest option is perfect for families looking for more space to spread out. Plainfield offers large parks, walking trails, and nature preserves, but still lots to do and within a quick drive to Indianapolis. Families will enjoy housing options that range from larger single home lots with space to roam to neighborhoods offering close knit community.
---
Camby/Mooresville
Website: Town of Mooresville
Price Point: $200,000-$400,000, most homes being sold at $285,000 in the past year
Known For: Zydecos, Bran N Shorts Coffee House, Black Dog Brewing Company, Morgan's Corner Cafe, Squealer's Award Winning Barbeque, Chunky Monkey Ice Cream and Sweets
Miranda's Take: For families looking for a more rural, land, or a small town feel, the Mooresville or Camby area could be the place. Families will enjoy local favorites on Main Street, parks and recreation for kids, and a friendly community. Lots are larger and land is available, while still remaining close to amenities and a quick drive away from Indianapolis.
---
Thank you for joining us for Part Four of our series: Westside neighborhoods near Indianapolis! We hope you enjoyed the first three parts as well: Part One, Part Two, and Part Three.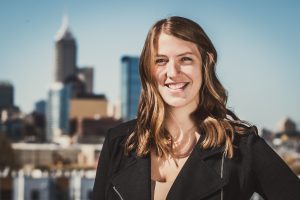 Miranda is an Indianapolis native and an Indianapolis Moms contributor. She lives in downtown Indianapolis with her husband and four-year-old son, Avett. The three, along with lots of family help, are renovating their 100-year-old home. Her love for real estate began as a young adult, growing up with parents in the renovation/rental industry, and she has carried that love and experience into her career today. Miranda has excellent communication skills. She stays calm under pressure, is an active listener, and is an advocate for her clients. She believes a win-win situation exists for every buy/sell and has built her business on honesty and integrity. Miranda utilizes the power of social media to connect clients to needs. She's a big fan of neighbors helping neighbors and is active in her local community. When she's not working with buyers/sellers or completing a renovation project on her own home, Miranda enjoys spending time with family, being outdoors, hiking, biking, traveling, camping, and eating good food.