As a mom, it can be hard to spend money on yourself: especially on clothing. Sometimes it's just easier to grab a pair of leggings at Target and a t-shirt that may or may not fit on your way through the store. After having three kids, through struggling to lose the baby weight, I know I have a hard time getting the nerve to spend money on myself to feel glamorous again. Luckily, though, beauty + grace makes it a possibility. Located at Carmel's City Center, it's easy to get to, parking is ample, and the clothes are hand-picked by the shop's local owner.
I love beauty + grace because the options are wide: from semi-formal to casual, the clothes are beautifully made, comfortable, and on the cutting edge of fashion. Perfect for a night out, on the sidelines of a basketball game, at the gym, or chasing toddlers at the park: cashmere, dresses, sweatshirt, t-shirts, handbags and shoes, beauty + grace is seriously a one stop shop for luxury clothes.
I definitely consider myself a t-shirt and jeans (…yoga pants) kind of girl, and always have been, but what's nice about springing for well-made brands you can wear every day is that they fit and feel better than discount staples. I got the sweatshirt I'm wearing below at beauty + grace and not only get a ton of compliments wearing it, I feel comfortable, yet put together, in just a sweatshirt and jeans.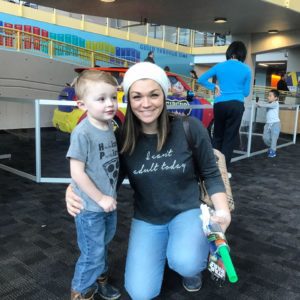 If you don't quite consider yourself a fashionista, but would like to visit the shop and get some information on one of the brands Beauty + Grace carries, just go! The shop is hosting events almost every week for the month of March!
Sunday, March 5th 11:00am-2:00pm
Join us at the Pink Ribbon Celebration Survivor Luncheon at 502 East. Come shop beauty + grace clothing and accessories among Central Indiana's Breast Cancer Survivors! Register at www.komencentralindiana.org
Thursday, March 9th 6:00pm-8:00pm
Grab your paper loving friends and head to beauty + grace to join Kristyn from Oliver's Twist for a fun workshop to create a marbled paper stationery set. Workshop will include a set of 15 folded notes with lined envelopes & vintage stamps. Limited to 30 ladies. Wine and sweet treats will be served. $35 registration fee. Call store to register at 317-564-0687
Saturday, March 11th 4:00pm-5:30pm
Sip &Shop with InCycle and ivivva for your little girl to experience a spin/yoga class. While they ride you can visit the store located adjacent to the studio to shop beauty + grace's 38 designers while sipping a glass of wine.
Thursday, March 16th 6:00pm-8:00pm
Grab your girlfriends and create your own succulent sand terrarium at beauty + grace with ladybird shopette! Drink wine and design! Workshop is limited to 30 ladies. $50 registration fee. Register on her web site at
Friday, March 17 11:00am-7:00pm
J. Nicole Custom Bracelet Design Lab is back at beauty + grace. Celebrate St. Patty's Day by choosing from dozens of beautiful semi-precious stones and beads and creating your own Spring Bracelet!