The best parts of the holidays are the traditions we remember from our childhood. Memories shared by family and friends enrich our lives and give us something to look forward to each year. Every family has those small things that they do every year that get you excited for the holiday season.
It might be driving around in your pajamas looking at Christmas lights, looking for the cherub on the old L.S. Ayers building, telling Santa your wish list; the list is numerous for those little traditions that make a holiday, your family holiday. (My list is heavy on Christmas traditions, since I am Episcopalian.) As a mom, I want to share all the good things that I remember doing as a kid to my son. Making our own family traditions, while incorporating old traditions is the key. We all want our children to have the best of our world. The holidays become the embodiment to those wishes.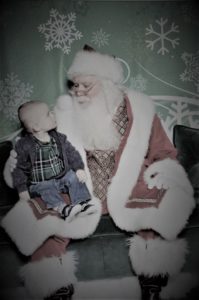 Remembrances of Christmases Past
My mom was the one that provided the traditions for our family. The tree was always up and waiting to be decorated the first Friday of December when we arrived home from school. Somehow, she separated out my brother and mine ornaments, had several types of cookies baked and ready. When we finished dinner or sometimes the cookies and eggnog were dinner, we decorated the tree and had carols or Christmas movies playing in the background. As we got older, this tradition was met with grunts and moans, but it is something I have tried carrying over into my household to the grunts and groans of my husband.
Mom and Dad would pack us in the car and drive around my hometown of Columbus, IN to see the Christmas lights. We watched all the Christmas animation movies when they were on TV and mom still tells the story of my crying to Nestor, the Long-Eared Donkey when I was 2. By the way, I still do. Snippets of my childhood traditions are customs I have tried to bring to my marriage before and now I am especially dedicated to reviving. Traditions are very important to my husband and we have done our best to merge our favorites into our family.
Holidays during Infertility
The holidays when you struggle with infertility are just not fun. I just cannot come up with a "nice" descriptive word. Those traditions you hold dear, just seem to mean less. For me, the feeling of never being able to pass on traditions and stories was terrifying and fed my sadness. It was hard, especially spending them with family members who were living the dream of kid-centered holidays. It never truly felt like the holiday, it always felt like my husband and I were missing something or someone.
The past two years of holidays have been filled with a wonderment that makes me feel complete in celebration. I sympathize with those couples going through infertility during strong family centered holidays like Thanksgiving and Christmas. For those couples I say, it is okay to make your own new traditions. While most families are supportive and understanding, they can never truly understand your pain and sadness. Find and make traditions that make you happy. Your family will always be there for you when you are ready. Thanksgiving skiing in Aspen, Christmas in New York City, New Year's in Honolulu, you do whatever or wherever fills your soul. If it is still sitting on the couch with Grandma and her famous eggnog, embrace and cherish those family moments.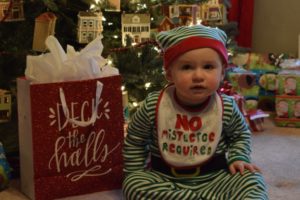 Creating New Traditions
My son turned two this year. His first two Christmases were good and each year my husband and I try to figure out how to make them better. This year we are trying new places and events and we have a growing list for when he is older. My husband and I want to respect the traditions that our parents created, but we are at a point in life, that we need to start making our own. We cannot continue to do and fit everything in that we have always done. As a family, the grandparents are always invited to be part of new adventures and experiences. These family traditions and togetherness are what makes a memorable holiday season.
What are your favorite holiday traditions?