May brings warm weather, the last day of school, and the opening day of most farmers markets. While our market has added an indoor winter market, being outdoors on a late spring morning before the heat and humidity set in, shopping for locally sourced eats cannot be beat! It has become one of my favorite ways to spend a Saturday morning. I thought it would be great to share some tips to get the most out of your trip to the market.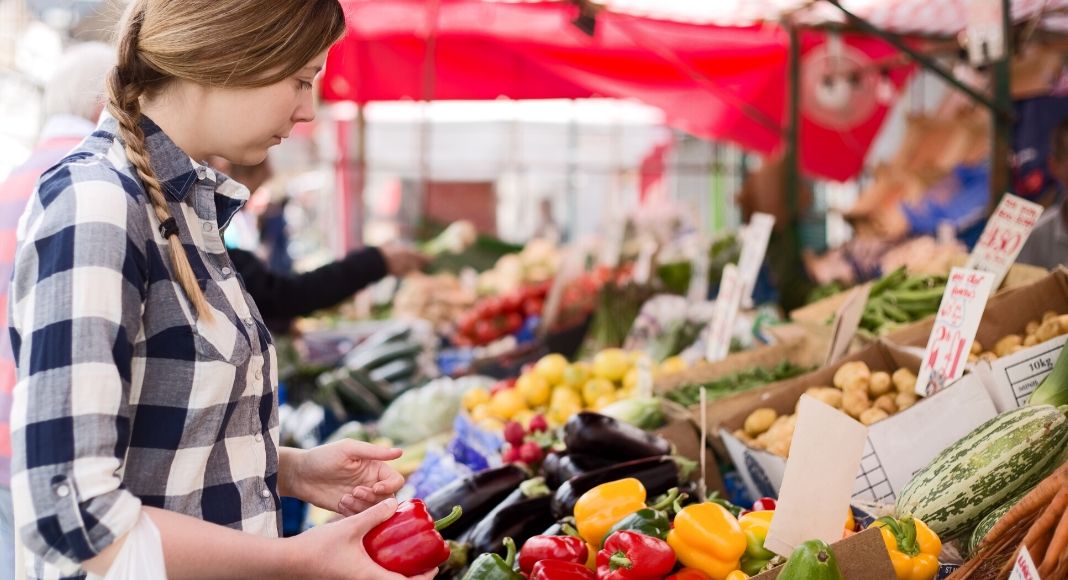 Find your local farmers market
Finding a local farmers market can be as easy as putting in your zip code using a site like Local Harvest. This site will allow you to find markets, farms, local CSAs. Most larger cities have farmers markets every weekend from May to October. If you are local to the Indianapolis metro area, there are several local markets in downtown Indianapolis, Carmel, Noblesville, Broad Ripple, and Westfield.
Bring cash
Most of the farmers and artisans who sell their goods at the market will be small scale operations. Small family farms where paying additional credit card fees will eat into their already slim profits. So stop by the ATM on your way. It will also help you to say on budget!
Ask a farmer
Not sure what to do with rhubarb, what is purple basil, how is a ham steak best prepared? Just ask! It is one of my favorite parts of choosing to shop at the farmers market. I ask a lot of questions, and I have the privilege of speaking directly to the farmer who has grown the crops or raised the livestock. Most farmers LOVE talking about their craft. They want to educate folks about what they do. They care about the food they grow and want you to as well. In all of my time attending different markets, I have only come across one farmer who was reluctant to answer my question about growing microgreens!
Try something new!
Go ahead and buy that rhubarb. Perhaps take a small step away from boneless skinless chicken breasts and try out roasting the whole bird. Take a sample of farm-fresh goat cheese. And share that experience with your kids! I will admit my kids love to go to the farmers market for the donuts, but we do sample all sorts of fresh fruits and veggies. I ask them what they would like to try or to pick out the dozen of eggs. Involving them in the process of choosing healthy eats encourages them to eat those healthy eats!
Farmers Market ≠ Organic
If you have made a choice to buy only organic produce, be sure to ask the farmer about their growing practices. For years I thought that if a farmer sold at the market, they were organic. It wasn't until I asked that I learned that there are some who employ conventional farming techniques, including using pesticides and other synthetic compounds. You will most likely find few sellers who are certified organic by the USDA. The process of becoming a certified organic farm is cost-prohibitive for most small family farms. But, again, ask about their farming practices: What do you utilize for pest control? Do you grow a variety of crops? Do you use GMOs? How are your crops fertilized? What types of feed are used for your livestock? What are the living conditions for your livestock?
Again, most farmers will be more than willing to answer all of your questions! If not, I would be cautious about buying from them!
Join a CSA
You may find that many of the farms represented at the market offer a seasonal CSA. CSA is community supported agriculture. The basics: you pay a monthly fee to the farm in exchange for a variety of their crops, meat, eggs, etc. Each farm that offers a CSA will have a different setup. Again, ask questions!! For over a year now we have participated in a meat CSA through Becker Farms, and many local farms have vegetable CSAs available
So find a local farmer's market this weekend, load up the family and your reusable grocery sacks and let me know what you find!