In the words of Eminem himself, "Guess who's back? Back again?" Yes, that's right. It's time for Elf on the Shelf to make his return to our homes. He fills our children's eyes with joy and wonder and our eyes with stress and panic. But I'm here to help so that maybe you can change your view of our friend, Elf on the Shelf.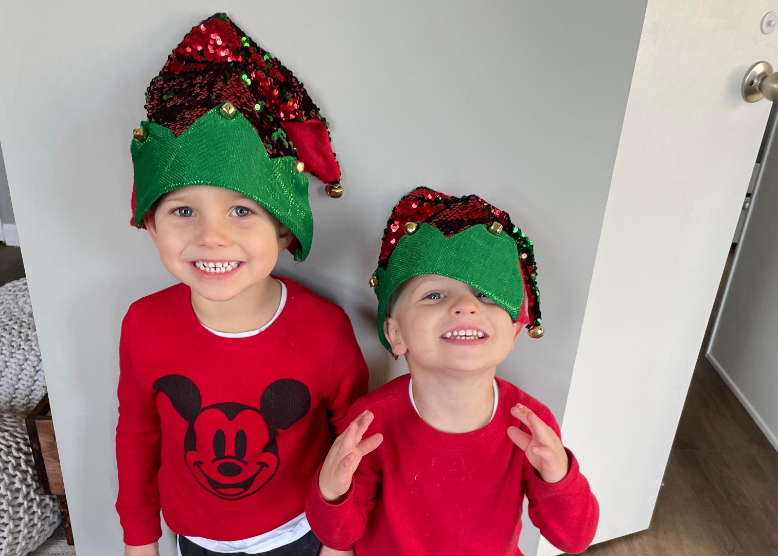 First, let me answer a few questions.
Do I have to use an Elf on the Shelf, or can I use a different character that's available? 
You do not have to use Elf on the Shelf. Different variations of this tradition can be used, like Shepherd on the Search and Reindeer in Here. To enjoy it, you need to make it your own so if an Elf isn't your style – switch it up!
How old do my children need to be before I start Elf on the Shelf?
That is up to you! I began Elf on the Shelf when my son was 13 months old. He chewed on our Elf's head and carried him around, which is clearly against the Elf's rules, but ehh, my son was too young for him or me to really care. Looking back, I would have waited. My oldest began to really enjoy the Elf when he was three years old. That is the age when he would wake up excited to come down and see what the Elf was doing. 
When does the Elf on the Shelf need to "arrive" at our home?
I think this is entirely up to you. Personally, our Elf arrives on December 1st, but I know some people have their Elf come the day after Thanksgiving. We are always traveling the weekend of Thanksgiving, so it is better for our family to have him arrive on December 1st. There are no "rules" for when he needs to arrive at your house so do what is best for your schedule and your family.
Now, I am going to share with you how I prepare for Elf on the Shelf so that I don't hold a grudge against our him for the entire month of December. 
Here are my big tips:
Every year during the month of November, I plan out the entire month of what the Elf is going to do. This saves me from frantically trying to Pinterest something at 11:00pm that the Elf can do the next morning.

I save my list from each year so I can repeat or alter some of his moves.

To go along with #1 and #2 – write it all down! Whether you prefer the Notes app on your phone or you're like me and you love pen and paper to make lists, write it all down! Don't rely on 'pinning' on Pinterest or screenshots. This will still cause you to have to go back and look for your ideas. A written (or typed) list will have everything easy to locate.

Some of our Elf's moves are related to whatever is going on in our schedule for that day. If your schedule is like ours in December, we are always super busy! Between family gatherings and holiday activities, we always have something going on. This helps when creating a list of the Elf's moves. For example, Every year we go on the Sullivan's Hardware train ride to the North Pole, so the Elf that morning may be riding on a train announcing that we are going that evening. By doing this, it can help come up with ideas much easier. Plus, it's a fun way to reveal activities or your schedule to your child(ren).

Already know what you're going to need for each move so you can do the shopping beforehand. For example, on the first day I already know I'm going to use balloons and poster board so I get red and green balloons and a poster board from the dollar store.  

I'm all about making your child(ren) 's Elf on the Shelf experience customized to them or to best fit your family's needs or style. For us, it is very important for our children to know the story of the birth of Jesus Christ. He is the reason for the season. We want our children to love the experience of Elf on the Shelf, Santa Claus, and all of the holiday fun, but first and foremost knowing the reason behind Christmas and the birth of our savior is the most important part to us.
Here are some of my favorite Elf on the Shelf moves:
Welcoming our Elf on the Shelf back from the North Pole. For the first move, I do it up pretty big. This gets the boys excited and starts off with a bang. I make a poster to hang, blow up balloons, put out the Elf's book for us to read (this comes inside his box when you purchase him), and I have cookies made with their names on them. (@backroadbaker on Instagram!- Olivia is amazing!)

Our Elf has been busy taking selfies and posting them around the house. He is set up with all of the supplies: an old phone, scissors, paper scraps, and tape. The boys have so much fun finding his selfies all over the house. The selfies are on cabinets, on walls, in bathrooms, in the refrigerator, in the pantry – everywhere! I save these selfies every year in our Elf's box with him and his book so that I don't have to reprint them every year.

Our Elf sets up a bunch of disposable or plastic cups (no glass please) and hides M&Ms under some of them (not all). The boys have to pick up every single cup to know if there is a M&M hiding underneath. Now that I have two boys of Elf on the Shelf participation age, I will have two separate groups of cups for each boy to go through. My four-year-old is slightly faster than my three-year-old so this helps avoid any arguing over the amount of M&Ms they each get.

Every year, our local fire department and police department put on a Santa Parade one evening. They begin and go through each of the neighborhoods with Santa in tow and even an arrested Grinch. The Grinch is arrested earlier that day at Santa's Workshop where he was busy taking pictures with little kids. (Yes, it's as adorable as it sounds. Shout out to the Whitestown Fire & Police Departments!) This is one of our favorite holiday activities so our Elf always announces when this is happening. Remember how I said to incorporate your schedule into his moves? The Elf sets up all of the boys' toy fire trucks and police cars to make his own parade and brings the boys a Santa Claus toy.

Elf wants us to dress like him! The Elf leaves the boys an elf hat after he has added elf hats to the boys' portraits in the house. The boys always wear these the remainder of the day and it is adorable!

The week of Christmas, we always make a Gingerbread house together as a family. The next morning, the boys find out that Elf got a little hungry after they went to bed. My favorite part is the chocolate-covered face!

Sometimes the Elf is feeling a little silly. The Elf rummages through the boys' drawers and puts their underwear on the Christmas tree. This always gets lots of giggles.

Another easy way to incorporate your Elf into your schedule is to have the Elf present an activity that needs to be done. Maybe your child has a school project or performance coming up. Your Elf's move could be about that. For us, our Elf will sometimes present a homeschool activity to the boys. An example of this is the Elf giving the boys a fine motor skill activity to do creating necklaces by stringing Cheerios.

The night before Christmas Eve, December 23rd, our Elf always leaves the boys their Christmas pajamas. Fun fact: I bought the boys' Christmas pajamas in September. Keep your eyes peeled for deals on Christmas pajamas. They are happening earlier and earlier which also means pajamas (and certain sizes) are selling out faster and faster! The pajamas pictured have a loose flannel fit to them and are from Old Navy. I've also purchased Burt's Bees pajamas in the past. Those fit more snugly. 

On Christmas Eve, it is time for the Elf to say his goodbyes. For his parting gift, he always leaves the ingredients for the boys to make Santa Claus cookies and carrots for his reindeer.
I hope these tips and this list have helped you feel prepared and planned for your Elf on the Shelf's arrival. I often see fellow moms on my social media pages complaining about their Elf and wishing him away. But please remember the joy and excitement that it brings to your child's day. Seeing my boys' faces light up each morning as they run down the stairs makes it all worth it. "The light in a child's eyes is all it takes to make Christmas the most magical time of the year."-Unknown