I am a mother living with bipolar disorder and anxiety. Part of me can't believe I just said that out loud, because in today's society, to bring up mental health is often taboo, or perhaps even worse, "too much information."
Sharing about our Mental Health
There have been a few posts have been circulating on social media lately about postpartum depression, or maternal depression in general. Some of them show photos of "disheveled" mothers next to photos of the same woman looking more "put together". These posts have gone viral, often shared by other mothers who struggle with the exact same thing: mental illness. They're shared by mothers who identify with the poster, and many times these shared posts are the only indication that these women struggle.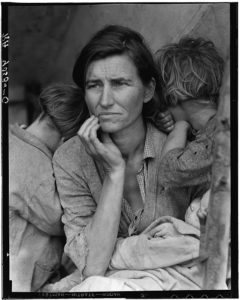 Because too frequently, people don't want to hear about mothers who struggle with their mental health. Mothers today are expected to be so much – too much. It seems like the world wants to put its hands over its ears and scream "la la la!" when a mother speaks up that she is struggling. Heaven forbid! But I can bet you that that's why these posts have gone viral. When we post about our own struggles, it's "too much." When we post about our own struggles, a lot of times we are blamed or judged, or ignored. In today's society, moms are supposed to be happy all the time. Moms aren't supposed to struggle. We're supposed to be put together and keep perfect and tidy and organized lives. We're not supposed to struggle, especially not with mental illness.
I can't tell you how many times I have typed up an honest post like the ones that have gone viral, only to delete it before or soon after posting. Who will see this? I calculate. What will they think? Oh no…this person will see it, and they've got it all together. I can't possibly put this out there and chance it that that person will see it. Again – what will they think?
Sharing our Struggles
That's why these posts go viral. They're brave, honest, open. They're real. And they don't hold anything back. They are shared again and again by mothers like me who have deleted posts just like them a million times because we identify with them. And with each share, the conversation continues and changes, and bit by bit, we come to connect with others who go through the same struggles that we do. Maybe that one mom we thought had it all together has depression, too. Maybe your neighbor deals with anxiety but was also too nervous to share. The more we share, the less and less taboo it becomes to talk about mental health issues as a mother.
And as we share, we begin to realize we're not the only ones. We open up to our friends, we reach out. We get help, and help ourselves. And the healing begins. It's not to say our struggles are forever over, because if we are being honest, many mental illnesses are never "cured", and most last a lifetime. But it can get better. As the judgment and blame and ignorance are slowly erased by more and more people stepping up in honesty, reaching out and sharing, the ripple effect starts to take place. It may seem dark and hopeless now, but there are people who care, and it does get better.
I have found that by sharing my story with my friends, I have myself become a resource for so many people who find themselves in the midst of mental illness. I've been able to refer people to counselors and doctors, but I've learned more about friendship. I'm not a perfect friend, but I've learned how to listen to and care for friends who are struggling. And I know who I can go to when I'm hurting, too.
Take Heart
If you're hurting, take heart. There are people who love you. You have a life worth living. Please, reach out if you need help. It does get better, I promise.
For local mental health resources, see Nikki's post here: #AskHer: May is Maternal Depression Awareness Month.