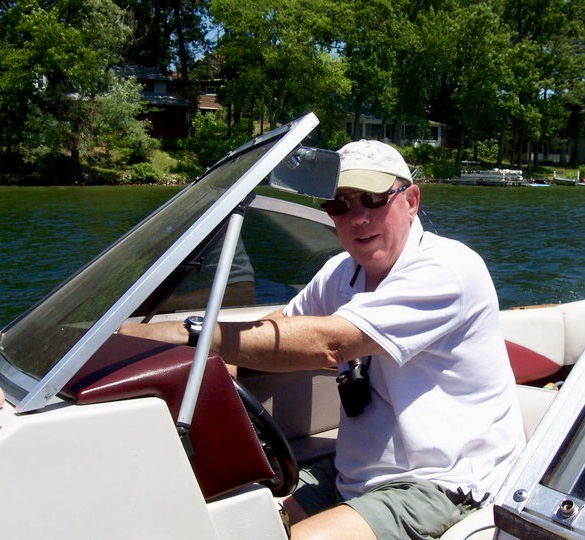 The lake is my happy place. I have so many memories growing up that I hold dear. The lake will always be waiting for me, but it will never be the same. My dad lived on a lake in Northern Indiana for many years. If you took too many big steps, you might just end up in the lake…now that my friends, is true lakefront property. My parents divorced when I was two, yet I have so many memories of being at the lake with my dad. Now, this lake was no ordinary lake to me growing up. It is spring fed, so the water is crystal clear and just feels cool and refreshing. I have memories of swimming for hours, with the wrinkly skin to prove it. Without warning, you would feel a fish or turtle nibble on your toe, reminding you that you were a little fish in a big lake.
At a young age, my dad got in the water with me and literally pushed my bottom up out of the water for my first water skiing experience. It took too many attempts to count, but he never gave up on me. Then it finally happened, I was pulled out of the water with a gentle push and the rest is history. I loved to water ski, but what I will always cherish is my dad driving the boat to pull me along. No need to tell him to slow down, he knew the right speed for his girl. Tubing, well that was another story. My dad would get a thrill of whipping my brother and cousins outside the wake. We would take bets on who could hang on the longest. No need for a bath or a shower at the lake. We would get a bar of soap, shampoo, conditioner, and wash up in the lake. Our suntanned bodies (or burnt in my case) would be exhausted from a hard day of fun. The best part? We would do it all again the next day.
My dad died on September 10, 2018, after a courageous battle with cancer. A cavity was the extent of his medical history when he was diagnosed, yet he fought his disease like a champ! Always open to new treatments, procedures, sought different opinions, and was brave. Let that sink in…no past medical issues until you hear a physician say, "you have cancer." I can relate. Our bond was unique in that I was also fighting breast cancer. He modeled courage, determination, and never letting go of hope. Old and new friends professed their love for my dad at his viewing and funeral. The theme was that he was a good man, he was kind, and had the most loving heart. Examples of his kindness confirmed what I have known all along. My dad was fierce, fun, kind, and I miss him terribly.
My dad was my strength, my rock, and the one I could call at all hours of the night and he would be there. He had this way about him that I hope I pass on to my children. He would listen, comfort, and allow me to make my own decisions. You see, when I called him, I wasn't looking for advice. I just wanted him to listen, without judgment. I miss his voice to the core of my being. When I knew his health was fading, I started saving all his voicemail messages. His voice brings tears and I would do anything to hear his voice again.
We have lived in our current home for six years. Our backyard overlooks a pond that is full of fish, ducks, and the ever so territorial geese. One day recently, I looked out the kitchen window and I saw two beautiful white swans swimming side by side on our pond. Why did they appear? Swans have never visited our pond since we have lived in our home. Why did the sight bring me to my knees? Just swans right? Not to this daughter missing her dad. Remember when I said there are signs all around you if you just take the time to observe? Well, those swans instantly allowed me to truly feel my dad's presence. I've been praying since he passed for a dream, a moment, or a feeling that he is with me. Well, it came, and it was so beautiful. How can my dad and a swan be connected? Here's the backstory…
Breakfast, lunch, and dinner were enjoyed on the deck overlooking the water. When the rain came, we would gather at a table in the kitchen where the water was in clear view. Swan sightings were not uncommon, yet when they made their way towards us it was always exciting and we would stop and celebrate the awe of their beauty. My dad would remind me not to get too close, especially when their babies were trailing behind. As a child, I wanted to be the first one to see a swan and share my joy with my dad. Small moments and in fact big ones when you think about it. When those swans appeared on our pond, I was reminded of the beauty of my dad and that he appears when you least expect it. The swans stayed around for a couple weeks, left, reappeared and are currently exploring another pond. They will return when they are ready, and my heart will be full once again.
Life on the lake is a gift. Memories of boating to get our favorite doughnuts, finding a special place to anchor and swim, and watching my dad's hair (he didn't have much) blow in the wind as he went as fast as the boat would allow. I hold onto these moments tightly and will pass our memories on to my children. For now, I will keep my eyes and ears open. Signs of our loved ones are all around you and when they appear, your heart will lead you home. I love you, dad…