Some of our family's favorite past times are being outside, enjoying good company and nature, growing gardens, and appreciating vibrantly nutritious and delicious foods – and giving back! Public Greens is a must do on your summer bucket list! It is located on the Monon Trail in the heart of Broad Ripple.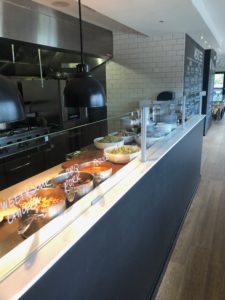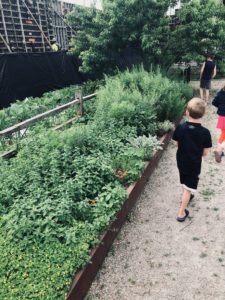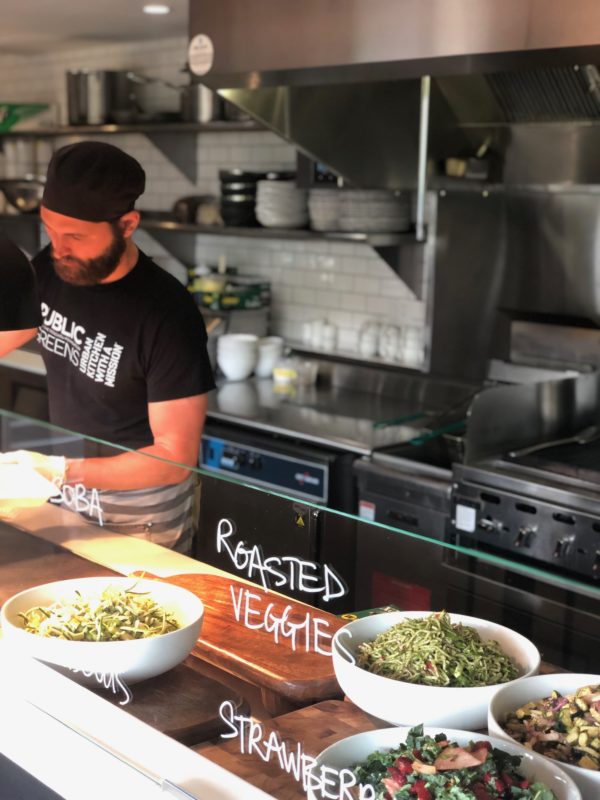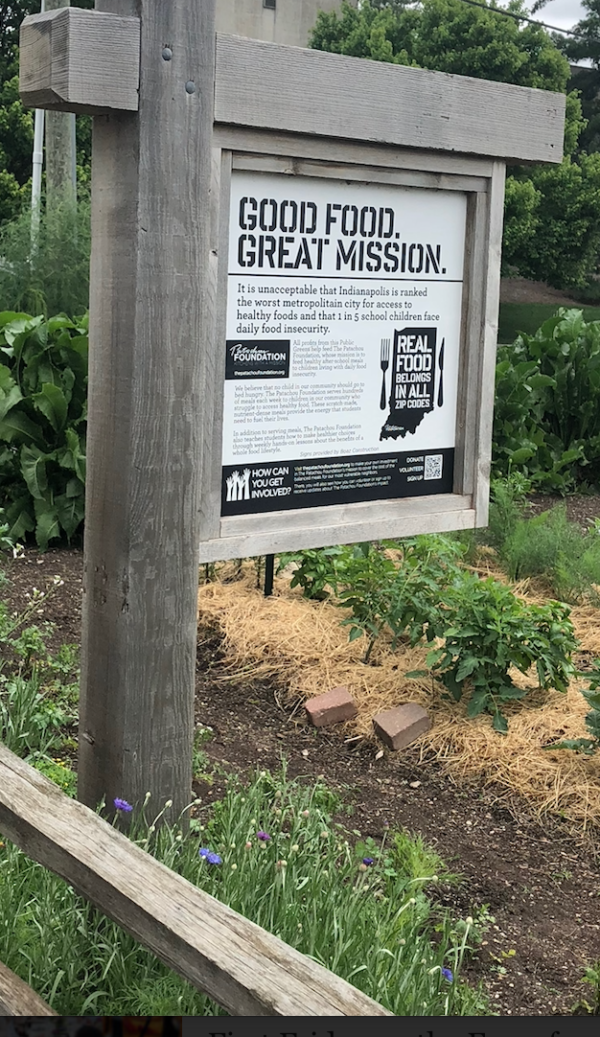 Public Greens is a farm-market inspired restaurant that helps The Patachou Foundation, to feed wholesome meals to food insecure children in our community. The monthly changing menu features locally grown produce, humanely raised proteins and house made desserts, all served in a modern cafeteria style.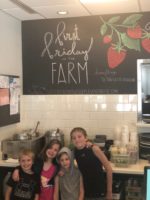 As a mother and a child advocate, I have fallen in love with Public Greens and The Patachou Foundation, a foundation, that was started by an Indianapolis mother, Martha Hoover. Her talent and brilliance in the kitchen have won her a plethora of awards and recognition, and she is also noted for her charitable work – shining a light on her kind heart and natural motherly instinct and passion for caring for children.
Our family had the unique volunteer opportunity to serve children alongside The Patachou volunteer staff, combating hunger in food deserts in Indianapolis.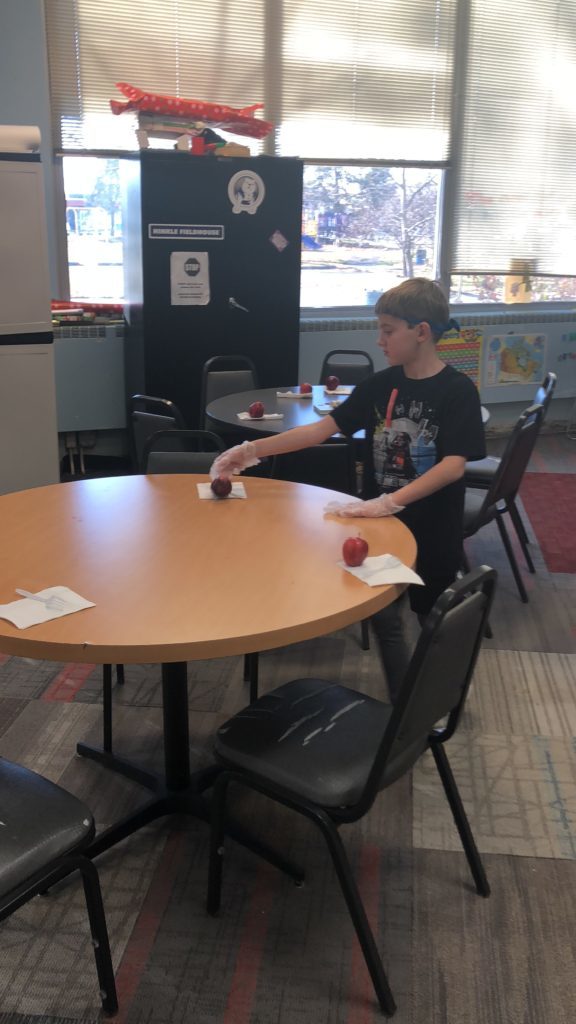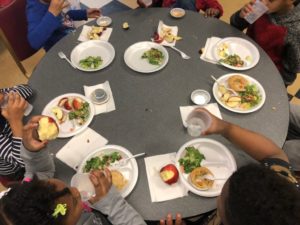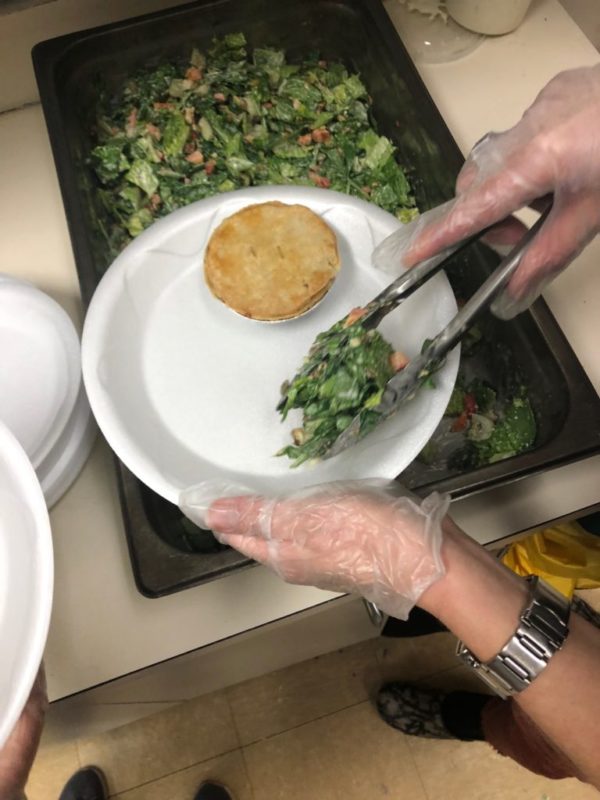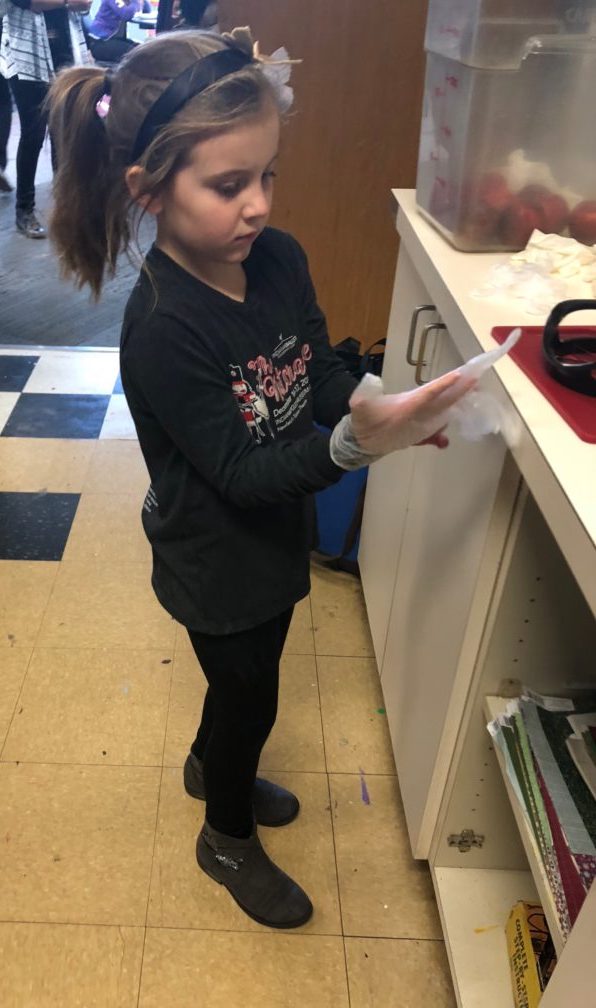 The philosophy of the Foundation is inspiring and so very importantly needed. Healthy foods and healthy kids. All children should have an equal opportunity for adequate nutrition. This foundation is providing an opportunity and experience of the power of Farm-To-Table.

A farm-to-table experience for the whole family.
First Friday's On The Farm is a fundraising dinner series to benefit The Patachou Foundation and fight childhood hunger in Indianapolis. The fundraiser event takes place on the first Friday of June, July, August, and September at Public Greens restaurant and micro-farm. Each ticket purchased will provide two weeks of meals to a hungry kid in Indianapolis!
First Friday on the Farm fundraisers is a backyard BBQ style, earlier start time, something for everyone in the family to enjoy. Family Night On The Farm will feature a menu of backyard BBQ favorites for dinner, tours of the Public Greens micro-farm and beehives with farmer Kate and a special cooking activity with Chef Twinkle, Head Public Greens Chef, and cocktails for grown-ups by Hotel Tango Distillery.
A Kitchen With A Mission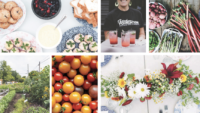 The Patachou Foundation is the nonprofit associated with Patachou Inc. restaurants: Cafe Patachou, Napolese, and Public Greens. The Patachou Foundation creates, delivers, and serves wholesome after-school meals to hungry kids, teaches kids nutrition and cooking skills, and provides hands-on experiences such as trips to the micro-farm at Public Greens. The Public Greens micro-farm is managed by staff farmer and beekeeper Kate Franzman who plants and harvests veggies, fruit, herbs, and flowers for the restaurant.
Farmer Kate will be giving tours at First Friday on the Farm.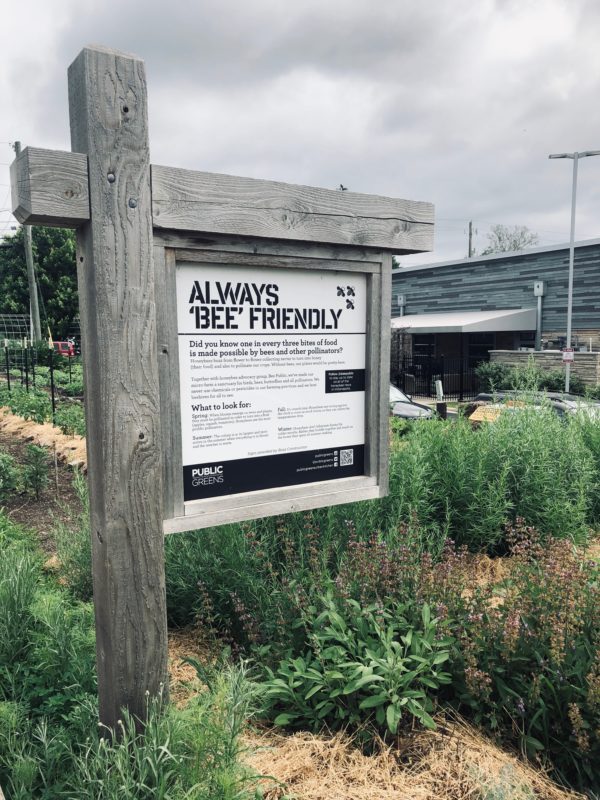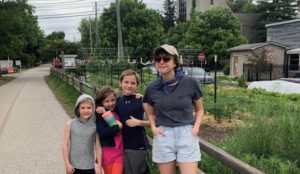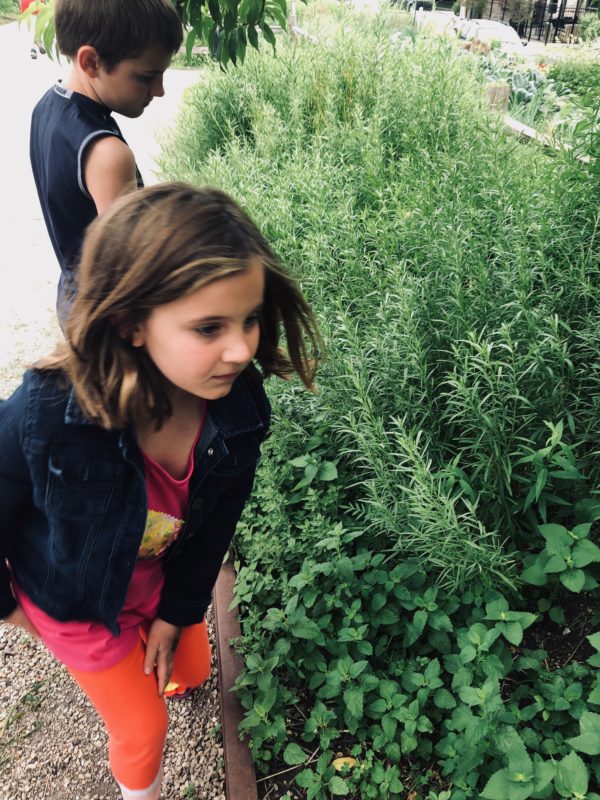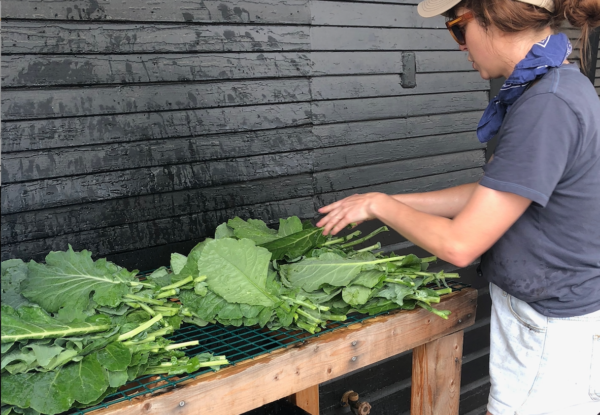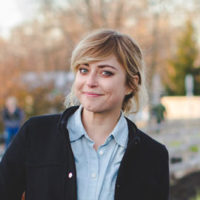 Indianapolis Mom's Blog talked to fellow Indy mother, Kate Franzman, Communications Director at The Patachou Foundaton and Head Gardener and Bee Keeper at Public Greens Micro-Farm.
"The Patachou Foundation's work goes far beyond providing the students we serve with a plate of food."
Kate shares insight and passion behind the foundation's mission.
"Hunger impacts our entire community, so even if you're not faced with hunger in your own life, or in your neighborhood, it affects the city in which you live and work."
"Unfortunately," says Kate, "Indianapolis ranks worst in the nation for access to fresh foods, and this hits children the hardest.'
"The kids we serve are hungry, but they choose to eat foods because they want it, or because they see others enjoying it."
"The Patachou Foundation has a 'Food Philosophy,' and we train our volunteers in the "art" of getting kids to try new foods and flavors, which is actually pretty hands off."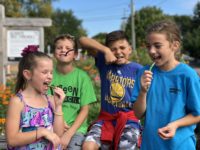 Why should we encourage kids to try new foods?
"Breaking the cycle of childhood hunger goes so far beyond providing a healthy plate of food to a kid.
First, we understand food is a right for every kid. They have the right to choose what and how much (even if it means none) they eat. We provide the consistency of meals and familiar faces each week. We also explain the unknown and reduce the pressure around trying new foods by not focusing too heavily on them and never using bribing or shaming techniques. After serving the meals, our volunteers sit down with the kids and model positive eating behaviors and have conversations at the table."
"We teach young people skills in self-reliance so that the next generation can break the cycle of hunger. "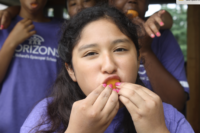 What experience can you share of children eating new foods they may not have tried before or had the opportunity too?
One of the most memorable moments that comes to mind is while I was giving a garden tour to a group of high schoolers. I like to show kids what their favorite foods look like growing in the ground. Let's be real, plenty of people are disconnected from where their food comes from, but I was genuinely shocked when a 16-year-old young man said he not only had never seen strawberries growing, he had never even tasted one. I immediately plucked a ripe juicy berry from the plant and he tried it in front of all of his friends. He loved it.
Why organic gardening?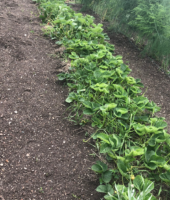 "At the Public Greens micro farm, we use what we call "beyond organic" methods to grow our crops. We use methods such as companion planting, cover cropping, crop rotation, and encouraging beneficial insects and birds to create a healthy ecosystem and nutritious soil."
Kate explains Public Greens micro-farm does not use any pesticides or herbicides in their garden and like many small farms, they have not paid to become USDA certified organic.
"Even certified organic farms are still permitted to use nasty chemicals and pesticides that kill bugs, and interrupt the ecosystem, and degrade soil health."
Can gardening make us healthier and happier?
"Sunshine and fresh air make anybody happier; there are studies that show exposure to healthy soil can boost our moods. Believe it or not, we are meant to eat at least some dirt."
"We don't get enough of it in our diets anymore because everything is sanitized."
"Without a doubt, becoming more connected with the food we eat through cooking and growing – leads to healthier outcomes. In order to develop healthy attitudes towards eating and food, we must see these spaces as a reprieve from the chaos of life."
What experience can you share that you have seen first-hand of children in the program visiting Public Greens micro garden?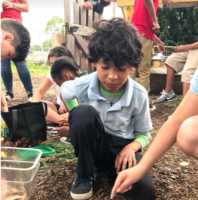 "My favorite moments during our garden tours are when things inevitably go "off-script": a bug, a bird, or even a possum appears and sparks a whole conversation of how different creatures or plants fit into the living, breathing ecosystem that is the garden. I also get the chance to talk about the benefits of honeybees, spiders, bats, and other misunderstood creatures."
"So much about our relationship with food develops in these moments of discovery: both on the farm and at the table."
What is one moment you knew you were working for an organization that was changing lives?
We host "Food Explorers Club" after school for fourth and fifth graders at the schools we serve and teach kids basic cooking skills, knife safety, and nutrition. One of the boys in the club, Sebastian, told us he made his own version of the fruit salad we made in class for his family with whatever he had in the fridge. Knowing that he made food for his loved ones while improvising with ingredient shows us that kids are learning skills in self-reliance that will have a long-term effect on their lives.
Why do you believe in the mission of The Patachou Foundation?
"Like many staff and volunteers, I was attracted to the mission of the foundation because I love food. Specifically, growing it and sharing it."
"I believe everyone should have access to positive food experiences in the garden, in the kitchen, and around the table."
What have you learned through working at The Patachou Foundation?
"Working for The Patachou Foundation has reinforced my belief that everything is connected. For the kids we serve their opportunity for success is restricted by their circumstances, including where they were born, what they are exposed to in life, and how much hope they have to reach their own goals."
"While the Patachou Foundation does tremendous work in meal service and education, I have come to realize that the true impact of the Foundation happens through the relationships we cultivate with the kids we serve."
Kate opens up about a moment while volunteering.
"As a volunteer (The Foundation staff volunteers often) our job is to provide nutritious food and create a positive mealtime atmosphere so that kids can form positive attitudes towards foods that are good for them."
"The meals we serve are both balanced and delicious. However, we're not there to put unneeded pressure on kids to clean their plate or try a new vegetable. The kids we serve often have home lives that are chaotic, so mealtime should be a reprieve for them."
About The Patachou Foundation
After School Programs and Meals
One of The Patachou Foundation's goals is for students to become independent age of their own eating and develop habits to make food choices by themselves from influence from their parent. Their creative and approachable but healthy meals for kids made from scratch. The menu is always kid friendly and introduces new ingredients.
100% of the parents of students in our after-school program at Washington Irving School 14 feel their children are more willing to eat healthier food as a result of The Patachou Foundation's meals -and 93% said their children tried new foods in the meals The Patachou Foundation served.
Food Explorers Club
Hands-on curriculum and literacy from the farm all the way to plate. Skills they can use to make easy snacks and meals for themselves. A nutrition driven program, one semester long, club meats before meals and get to create food for themselves and fellow students. Food Explorer students are recruited within the schools, during prime and developing eating habit time, which is typically 3rd-6th grade.
Four Food Foundations
Food is fuel.
Food is from the earth.
Food is for sharing.
Food is fun.
Summer Camps
The Patachou Foundation partners with community summer camps in the communities they serve by offering programs within summer camps at the community centers to the children that live in the neighborhoods. Field trips to the Public Greens garden, learning about the journey from farm to table, experiencing it first hand from growth to harvest creating and enjoying meals. They also provide nutritious meals and serve lunch to students during summer break.
What can others do to help Patachou Foundation?
Donate. Every 5 dollars goes towards a meal!
Family Night on the Farm
When: July 7, 2019
Where: Public Greens restaurant and micro-farm in Broad Ripple: 900 E 64th St
Ticket Price: $65 adults, $20 kids
Get Tickets!
Learn more about The Patachou Foundation and their exciting news for 2019 as they open their new: Kitchen IQ!
https://thepatachoufoundation.org/coming-soon-patachou-foundation-kitchen-hq/