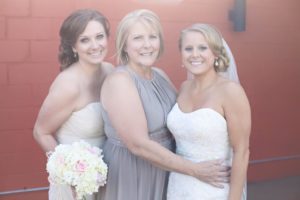 I ventured into the local Walmart to grab a quick item and was greeted with what seemed to be the world's largest display of Mother's Day cards and gifts. It stung. I wasn't expecting my heart to hurt walking into a convenient store. You see, I lost my mother in July. It's still fresh, it still stings, and at times knocks the wind out of me. I've never had a reaction to seasonal displays at a store. Today was unique, it was a first. Today was different and it got me thinking.
This year I will have a Motherless Mother's Day. It will be different than any other one I've experienced. Sadly, I'm not alone. A simple "Happy Mother's Day" sign hit me hard and got me thinking. There are so many other ways that women across the world are experiencing some type of "Motherless" Mother's Day.
Until experiencing it myself, I never knew a simple holiday display could evoke such emotion, such heartbreak. In a way, this experience has been enlightening and eye-opening. It's made me humble and empathetic for all the women who have walked into a store and had the same emotional response. This heartfelt, "you are not alone", goes out to all of the women who have, and will continue to have, "motherless" holidays.

This is for all of the women who have lost a mother. For losing a mother means losing a piece of yourself. You'll never be the same after your mother is gone, and although that reality is debilitating, it is proof that love existed in such a unique and beautiful way, your life is forever blessed, even in her absence.
This is for all of the women who are currently, and possibly have been for years, trying to become a mother and are finding it more challenging than they had hoped. Please know that you are beautiful, strong and will find a way. Your spirit and faith may be challenged but your determination and grit will not falter, and is admired by those around you.
This is for all of the women who are waiting for the call that their child and blessing is ready to be adopted. May you know how much your patience and perseverance is encouraging to those around you. Your unique path is admirable and inspiring.
This is for all of the women who have lost a child, for their lives and hearts will never be the same. Whether you experienced the loss of miscarriage or a child who blessed your lives for years, there are no words or gesture that could take this pain from you. Know that each day you carry on, you are admired, prayed for, and an inspiration to those around you.
This is for all of the women who never knew their mother or had the experience of a mother's love and relationship. May your life be filled with the blessings and relationships of others who give you all you need and desire.
This is for all of the women who have the title of Stepmother. May you feel the appreciation and respect of those around you. Your job isn't easy and yet you do it with grace, love and consistency, and for that, you are one-of-a-kind.
This is for every woman who is a mother in a nontraditional way. May you see the beauty in the nontraditional and know that your path is unique, lovely and courageous.
This is for any person during this Mother's Day month that may need love, compassion and kindness, especially those experiencing some type of "motherless" Mother's Day.
To all of you I say: Happy Mother's Day, whether you are currently a mother, striving to be a mother or already a mother in your own way. This month, be gentle with yourself. Remind yourself that while some holidays and times are more troubling than others, you are here, you are strong, and you are loved. I've learned it's ok to hurt and to have a heart that is broken, because hurt and heartbreak come first from love. Love that is given or love that is desired. Nonetheless, it's love.
Love is powerful. It can be inspiring and motivating, but it can also be downright debilitating. It can help you conquer the world and also allow you to feel like the world is caving in. So, on this Mother's Day, I encourage you to do what mothers do best: give love. Give love to those around you: family, friends, and even strangers. Especially strangers who may be tearful standing in the card aisle.
This month, spread love, share love and empower others to do the same. I can assure you there are many people that will encounter this holiday motherless and heartbroken. Whether you know it or not, those individuals need love and compassion more than they'll share and more than they're willing to admit.
If you are having a Motherless Mother's Day, my heart is with you, whether near or far, and I'm praying you find peace, comfort and compassion today. We are soul sisters with a painful title, but we will make it, for the holiday displays will fade, and eventually our hearts will remember the blessings more than the heartbreak.