My January of 2015 started out with a bang. Three months into my new job as an Investment Reporting Manager, I was called into an office with the HR Manager. To my disbelief, she slid a pink slip (yes, an actual pink slip) across the table towards me. She explained that I had done nothing wrong but after a department restructure my position was being eliminated. So out the door I went, with a brown bag full of my things (and a long list of regrets forming in my mind.)
Just like that, I became a stay-at-home mom overnight to my six year old daughter. My husband was doing well at his job, so I didn't have to rush back to work. I was given severance pay and had unemployment benefits coming. I didn't know what my plan was, but I knew I wanted to take a lot of time to think before making any sudden career moves. I ended up taking an entire year off from working outside the home. Here are a few things I have learned during my stint as a new stay at home mom:
1.) Even if you're not rushing out the door to a job outside the home, mornings are still stressful with school age children. Lounging in the mornings, I was not!
2.) You know that afternoon slump you get when working in an office, when the candy bowl starts calling? It still happens at home. However, one of my favorite things about staying at home is being able to schedule my workout for this time. I could get outside with my headphones in for a jog and my energy would skyrocket for the rest of the afternoon.
3.) I was a big believer in splitting household chores 50/50 with my husband when I worked full time. But guess what: now that you aren't working outside the home? Good luck with this argument holding up. Ha! Hahaha!
4.) I always had this idea that if I stayed at home, I would instantly lose weight. Because, you know, I would be up doing things all the time and the weight would just fall off. Reality check: this did not happen. I lost a few pounds, but that was just because I counted my calories with My Fitness Pal and fit in my workouts.
5.) Spontaneous hugs from my child in the afternoon after she got off the bus are truly a perk of being at home. There really is nothing better in the world than when your six year old grabs you from behind for a hug.
6.) There is something that happens in a home when someone lives in it and cares for it all day long. Coming home after a brutal day at the office with everyone hanging up coats and opening mail in a dark home with no life and cat throw up on the floor is overwhelming. Now I can have the floor swept, the lights dimmed, and a candle burning when everyone gets home. Because you know, I already cleaned up that cat puke hours ago (see #3).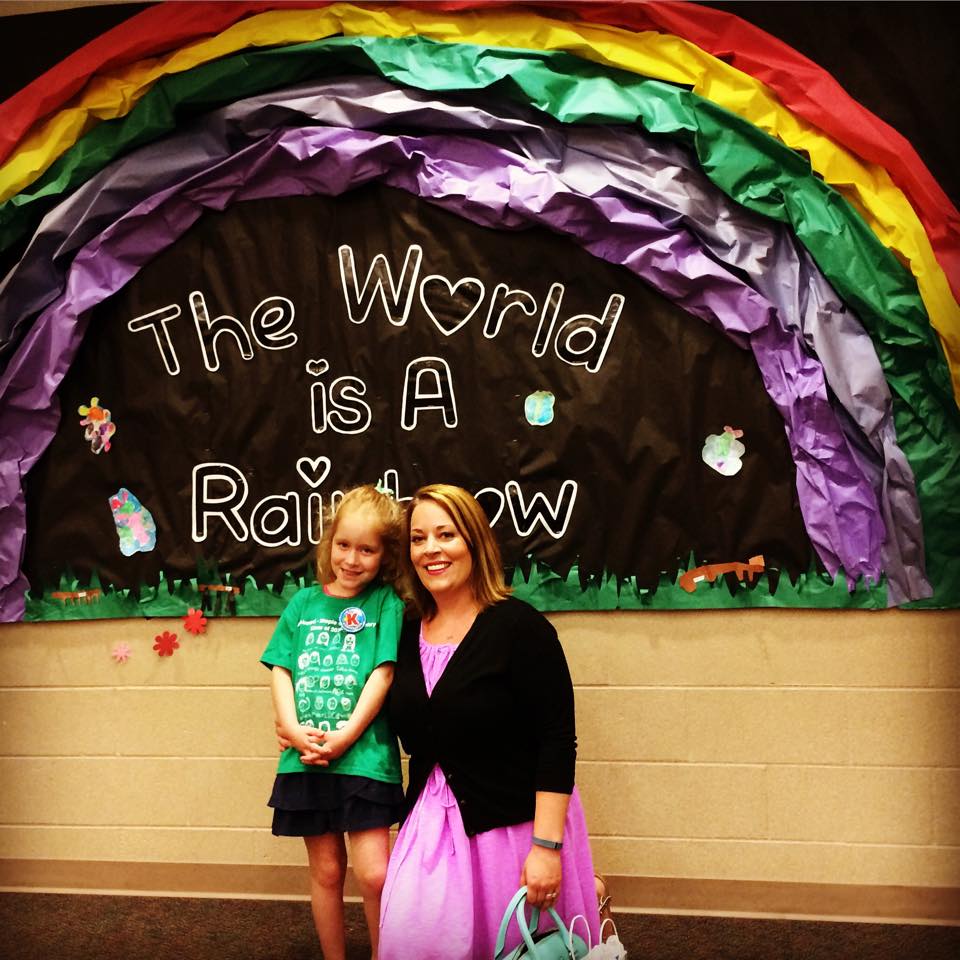 7.) Finding a place to volunteer is nice. While I worked outside the home, I always wanted to volunteer more like I did when I was single. Volunteer work gets you out of the house occasionally and makes you feel good, but it won't change your life. It's not like I found a place to give my time to and all of the deepest questions of my life were answered (darn it!)
8.) Navigating the world of room parents and dipping your toe into the pool of stay-at-home moms is tricky. These women are veterans, and you're a newbie. They're watching you and you're watching them. Friendships may happen, and they may not. And that's ok.
9.) Spontaneous hugs from your husband might happen more often as well, because you're not constantly stressing about work deadlines and what your boss said that day. It's up to you if you want to take it past a hug, but I highly recommend taking advantage of this perk.
10.) The number one thing I learned during my year at home is that the grass is not always greener on the other side. You're still a human being with emotions and problems and worries; that doesn't go away when the stress of working a paying job is removed. But you can sometimes take a nap when the world is too overwhelming. And that, my friends, is worth the price of admission.