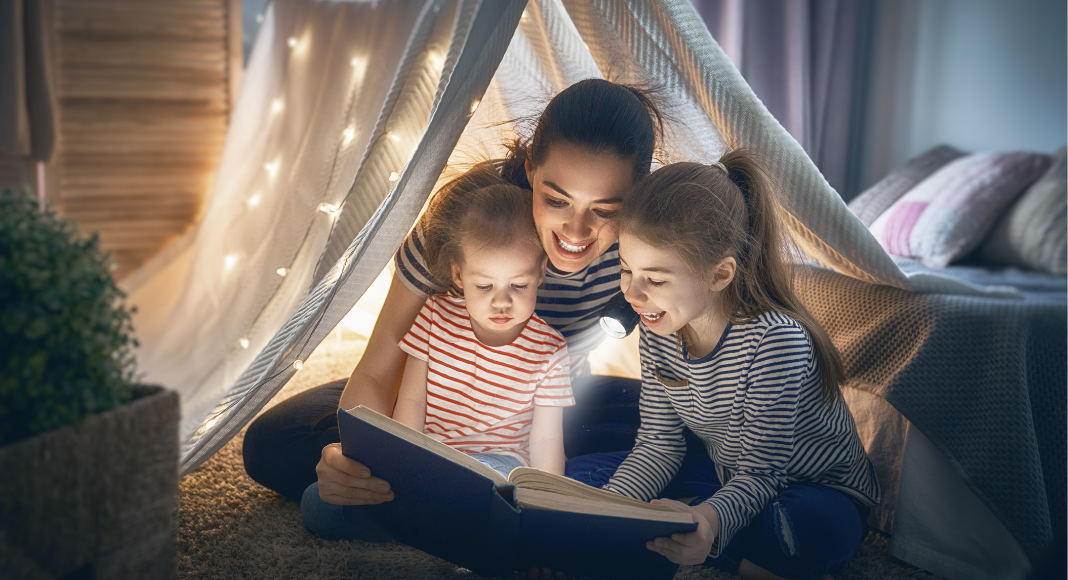 Keep your kids (and you!) from going stir-crazy with these nine winter-themed indoor activities. These activities are not only fun and easy, but they also use minimal to no extra supplies!
I don't know about you, but February is usually when my "I'm-going-to-go-crazy-in-this-house-with-these-kids" hits the hardest. In solidarity with all my other moms barely hanging on, here are some tried and true ways to pass the time inside with your kids this winter.
Make snow ice cream
Your kids will love the idea of a sweet treat made from the snow outside! Sure, they technically have to go outside to get the snow (8 cups if you use this easy, kid-friendly recipe), but for the sake of ice cream, I'm including it on the list!
Felt snowmen
Create some cute felt snowmen that your kids can decorate and rearrange by using felt. Cut out three white felt circles and then various other smaller felt shapes so kids can make silly faces, different combinations of buttons, and add fun accessories to their snowmen over and over again. Here's a tutorial for a traditional snowman, but I've done this using easy-to-cut out shapes like rectangles and squares that the kids can arrange in different ways to make the hat and scarf, so don't feel like you have to get too fancy!
Indoor zoo
Since the place already feels like a zoo, embrace it! Have your kids create their own winter-themed indoor zoo using stuffed animals. They could even take turns being some of the animals. If you wanted to add a game to the activity, your kids could take turns acting out an animal and everyone else could guess what animal they are pretending to be.
Dance parties
While this one could be used year-round to get some wiggles and energy out of your littles, you can make it winter-themed by using songs from Frozen I and II or just put everyone's favorite on repeat: Freeze Dance. Turn on some music and either dance along with your kids or sit on the couch and clap at their dance moves (which my kids seem to appreciate just as much, if not more, than my dancing…).
"Snowball" toss
There are tons of variations you could try here and all of them are a lot of fun! You could use a small, soft ball (bonus points if it's actually white!) and have your kids try to toss it bowls or buckets or to each other. You could also use large cotton balls and have your kids try to toss them into cups (this option is quiet, cheap, and chill—my personal favorite combo for long days indoors). Speaking of cups, you could stack them up in a pyramid and have your kids use their "snowball" to try to knock them down.
Reading
Put together a curated selection of winter-themed picture books and read them to your kids or give them time to browse the books on their own. Even if kids aren't readers yet, giving them independent time to read can encourage important emerging literacy skills (such as how to hold a book correctly, getting used to examining pictures, and turning pages in the right direction). It can also empower and engage them, perhaps giving them creative opportunities to make up their own stories that go along with the pictures.
If you're looking for some great books to get you started, try:
–Snowmen at Night by Caralyn and Mark Buehner
–The Snowy Day by Ezra Jack Keats
–Wolf in the Snow by Matthew Cordell (this book has no words, which can be great for independent browsing!)
–The Mitten by Jan Brett
Snowflakes crafts
For younger kids, give them pieces of black construction paper and white crayons and have them draw snowflakes. Older kids might like trying to cut out some cute snowflake designs. Here are twelve free printable templates for some inspiration.
Snow monster chase
To be completely honest, this is my kids' favorite activity on this list, and it requires no supplies at all. It's also the simplest, but depending on my energy level, might require the greatest sacrifice out of me. When we play snow monster chase, I chase my kids around the house yelling and grunting in my best Yeti voice, while they try to escape. Sometimes they try to run from the couch to chairs without getting caught (and tickled). Sometimes they just want to run. If everyone is feeling a little wild and you need to get some energy out, you might try embracing your inner Yeti.
Virtual events and activities
Now that you're exhausted from the snow monster chase, relax by participating in some virtual events and activities. There is a lot being offered in the Indy area right now. You can join in on virtual storytimes with the Indianapolis Public Library every Tuesday. The Indianapolis Zoo also has webcams on their macaques, macaws, penguins (as I'm typing this, I'm watching the penguins sleep and it is the cutest thing!), tiger, and walrus that you can watch on their website! This might be my kids' new favorite thing on the list, and I wouldn't be mad about that…
Now, let the countdown to spring begin!