With cooler weather comes my desire to bake. The flavors of fall–Pumpkin Spice, Apple Cider, Roasted Vegetables–are all in abudance in my home. I simply can't get enough. And thanks to Indiana weather, I started a bit early.
Family is one of the reasons I love being in the kitchen. A few weeks ago, while chatting with my grandfather, I learned of a family recipe for Carrot Pie. Carrot Pie? What? This literally never crossed my mind, and I'm a lover of carrots. I sneak them into almost everything at home. After hearing that my great-grandmother made this for our family often, I had to try it out. To the kitchen I went. I came up with Roasted Carrot Pie, and let me tell you: it's delightful! Rustic, sweet, yet savory. This pie is sure to become a Fall favorite.
Grab the recipe below.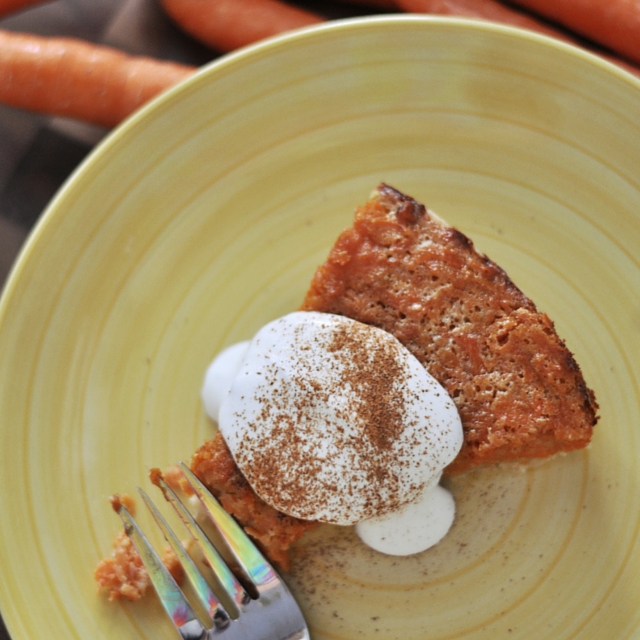 Roasted Carrot Pie
Ingredients
2 Cups of Carrots (About 8-10 whole carrots)
2 Eggs Beaten
½ Cup of Brown Sugar
¾ Stick of Butter
½ Cup of Milk
Pinch of Salt
Pie Crust Ingredients
¼  cup Shortening
¼ cup Chilled Butter Diced.
1 & 1/2 cups all-purpose flour + for dusting
Pinch of Salt
1/2 cup ice water
Pie Crust Instructions (Should be prepared ahead of Pie Mixture.)
Preheat oven to 350 Degrees
Mix Butter, Shortening, flour, and salt together with pastry blender or forks until the mixture resembles a crumbly texture.
Add water, slowly to combine and mixture forms a ball.
Roll dough out on a floured surface.
Place dough into pie plate and press firmly into pan along rim.
Remove excess dough
Prick dough with a fork and Bake at 350 degrees for 10 minutes.
Remove from heat and allow to cool.
To Prepare Pie Filling
Roast carrots in oven on a shallow sheet pan for 45 minutes or until tender.
Peel & Mash with a  fork.
Beat 2 eggs lightly and set aside.
Add Butter, Brown Sugar, ½ cup of Milk salt & Eggs together, stir and combine with mashed carrots.
Mix well, until the batter is slightly lumpy.  Pour into prebaked pie crust.
Bake for 25-30 minutes until firm.
Serve with a dollop of Cinnamon Dusted Sour Cream and enjoy!