The warm weather is here and swim season is right around the corner. In years past we've had several good, and not so good community pool experiences; I wanted to share 10 tips on how you can be prepared with your little ones and rule the pool this summer!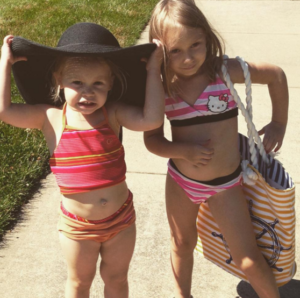 Stay fully loaded: Keep a tote or backpack in your car during the summer with all the essentials – this includes an extra swimsuit for each child, towels, sunscreen, hats, swim diapers (if needed), wipes, plastic baggies, refillable water bottles, and a second change of clothes. These will come in handy when you are stopping by splash parks or for spur of the moment pool trips. Don't forget to restock after every use!
Playthings: Cultivate some of your not-so-loved toys for "pool toys;" suddenly the kids love them again, and they have a whole new life! Many times the toys don't make it home, so make sure they aren't family favorites.
Baby Pool: Stick to the baby area as long as possible. Once you have joined the big dogs in the regular pool, your kiddos will never want to go back. Gone are your days of sitting by the pool with a magazine, glancing over at your toddler in the baby pool without a care in the world. Enter the big, dark, deep adult pool that they will never want to leave. You will be forced to be in the pool the whole time and trying to keep them afloat. If we could only keep them little forever!
Floaties /Water Wings: Save yourself the trouble if you are simply going to the community pool; floaties are really just extra baggage and the kids learn better without them. Note to self: two children trying to put water wings on is usually accompanied by a whiny cry or a "hurry mom I want to get in." Also remember to get them wet before trying to put them on-ouch! I'd make life easier for everyone and keep them in the shallow water until they progress; leave your floaties at home.
Attire: Two piece swimsuits are important for those potty training – you will be taking that wet, cold swimsuit off a million times a day – make it simple. If needed, always take extra swim diapers, as they go through them quickly!
Potty Essentials: Make sure you have working toilets nearby! It sounds silly until you have a potty training 2- year-old that has to go, and go again, and go again. You'd be surprised how many times we've been to various community pools that have one out of commission.  Always bring wet wipes, too.
Ear plugs: One of our children had ear infections constantly and eventually had to get tubes in her ears. For us, ear plugs were key;  a must-have for kids with past ear issues. They have been so helpful – super cheap and well worth it.
Sunscreen: For us, aerosol sunscreen works so much easier on babies/toddlers. Our girls hated rubbing in all the lotion and reapplying. The spray is less invasive –  hence less screaming, which is preferred!
Munchies: Bring snacks, it's so much cheaper than buying at concessions when they are offered. I bring their water bottles and usually a baggie of peanuts, raisins and fruit for each of them. The kids love packing a lunch way better than ordering food, and it's better on your wallet!
Timing: If you are looking for pool time when there are less kids, go at dinner time, no one is ever there! I've found from my experience the best time for fewer children is 4:30-6:30pm!
Our family of 4 signed up for the Monon Community Center this year, and we are stoked about it. The kids have been talking about the outdoor pool since December! We're looking forward to a new atmosphere with lots of fun and will report back on that later this summer!