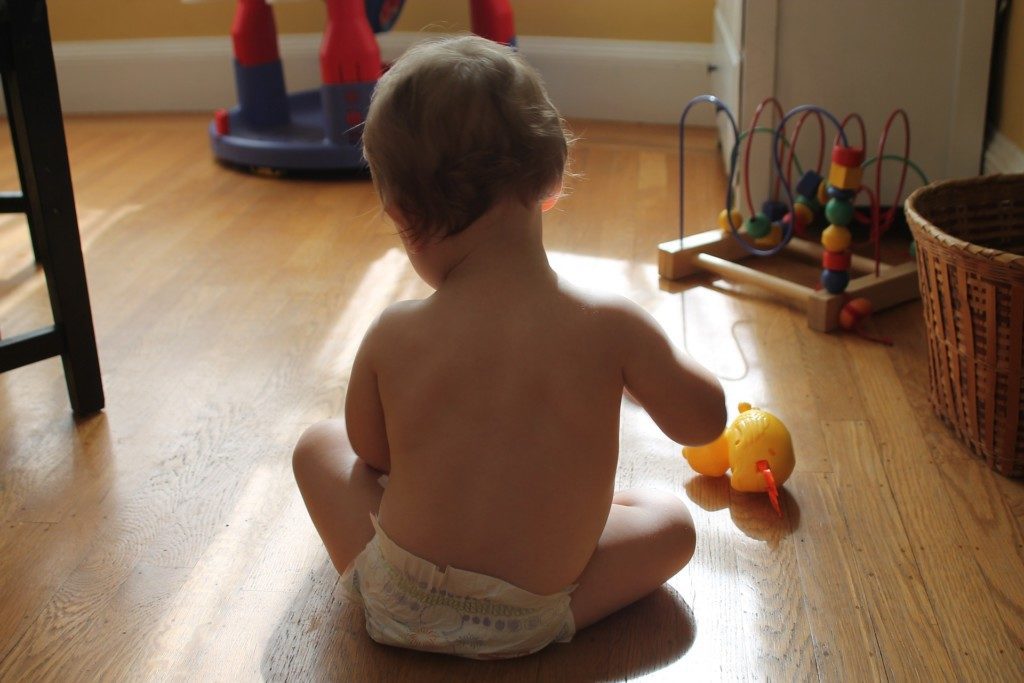 When I was pregnant, my husband and I initially kept all the baby gifts we received and all the baby items we bought, in our dining room. We called the dining room, namely our large dining room table, the baby staging area. During pregnancy, baby things were limited to the dining room and nursery. The rest of our home remained unchanged.
Once Deacon was born, we realized what needed to be used now (hello, Rock'n'Play) and what we didn't need right away (pretty much all toys and our too-big baby tub, among other things). Our home remained mostly the same as ever. Everything was a little messier, sure, but most baby items remained upstairs in the nursery.
As the weeks went on, something baby-related showed up in more rooms. We had a diaper changing station set up on the dining room table, since going up and down stairs all the time seemed risky to me as a new mom. Swaddle blankets and burp cloths waited on many surfaces, just in case. The trusty Rock'n'Play traveled from the living room, to our bedroom, to the nursery, depending on our needs. But still, our home was far more tailored to adults than kids.
When Deacon started crawling, it made sense to add a small toy box in our bedroom (aka an empty diaper box, because, you know, we had a few of those). And then a few toys in the guest room, too, because he crawls in there. And he got faster and more curious and okay, now we needed more stuff.
In came the baby gates. But our home is too dangerous (why do we have a heavy, ceramic bowl on a bottom shelf in the living room?), so we just bought a glorified baby pen for him to play in safely. Bright colored panels and rainbow foam tiles don't really match our family room color scheme, but here we are. Not that his toys actually remain in the Thunderdome, as we call it. He enjoys throwing each toy out one by one.
And now, like his toys, he doesn't want to be contained, at least not for too long. So sometimes he gets free reign around our constantly dangerous, open-concept downstairs and relatively safer upstairs. As he crawls, he brings and drops toys as he goes. We make snap decisions on what household items should or should not be allowed in his mouth; call it a compromise. Sure, fine, he can play with our silicone coasters. I wash those sometimes. "No, no," to the dog's water bowl.
Signs of baby are everywhere. The large enclosure taking up nearly our entire family room is the most blatant change. But a small one recently gave me pause. For his first birthday, Deacon received a toy dump truck complete with toy boulder. He loves the boulder. It can be bounced, rolled, thrown or chewed. When it disappeared the other day, I figured it would show up eventually. I found it the next day in our bathtub.
It was then that I realized that the bathroom was the last room in our house that had no sign of a child in it. And now, with that boulder, we've officially been infiltrated. Maybe this post has insinuated that I'm bothered by this. But the realization really falls in the fact that I am not. Before Deacon, I didn't like clutter; I prefer a minimalist look and am not much of a fan of stuff. So, I've been surprised that the transformation of my home has not bothered me at all. Not once. A boulder in the bath is representative of not just a transformed home, but my transformed view of what is important.