Christmas is my favorite holiday, hands down, no competition. I unabashedly start brainstorming wrapping paper color themes in October, and selecting the family Christmas card design takes time and careful thought. I'm trying to convince my husband that we need matching Christmas pajamas, which of course we do not because no one does. What I'm saying is that I love this holiday and everything that comes with it. Well, mostly.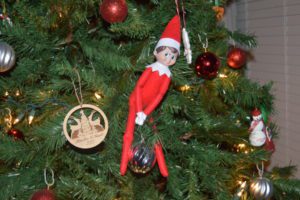 Before becoming a mother, I had heard of the elf on a shelf. Facebook friends who are moms would post pictures of a slim, smiling, slightly creepy elf apparently getting into all kinds of mischief overnight. And I'd scroll past these photos as fast as I would with anything involving Frozen; I wasn't a parent and therefore didn't need to know about these things. Well now that I am a parent, and the holiday season is upon us, I decided to give the elf a look.
For those unfamiliar, here's information on the Elf on a Shelf, from the official website:
"It's a fun-filled Christmas tradition that's captured the hearts of children everywhere who welcome home one of Santa's scout elves each holiday season. The magical scout elves help Santa manage his naughty and nice lists by reporting back to him at the North Pole nightly. Along with their friends, the Elf Pets® Reindeer and Elf Pets® Saint Bernard, Santa's elves bring the spirit of the season to life!"
So, here's what I conclude: children think this small elf is breaking into homes and stalking them. And parents are supposed to not only purchase the elf and elf accessories (like a peppermint grappling hook or tutu, I kid you not), but they also have to think of creative places to put the elf each night, possibly setting up an intricate scene that may or may not include marshmallows, candy or a Saint Bernard, inexplicably. When my son goes to bed, I almost exclusively spend time with my husband, eat ice cream, drink wine, watch TV or work. Elf scene prep is not making the cut. And I have more issues with the elf.
Honestly, it sets parents up to fail. The elf reports back to Santa every night in December? I'll bet most kids have a bad day or two, and then what? You deliver the news that the elf told Santa, and now your kid is nixed from the Nice List? Sorry, Santa's not coming this year, kids. Or you ignore those few bad days, Santa comes as planned, and the kids infer that the elf is a pushover.
Also, don't we have enough holiday characters? There's Santa, of course, reindeer, Mrs. Claus, Frosty, the Grinch and the elves that work in the workshop. That's enough, North Pole.
And finally, do kids talk about their elf with friends? How do you explain that Santa sends these elves to stalk some kids, but not others? Seems like water cooler chatter (chocolate milk chatter?) will poke some holes into this elf's story. Now, I totally understand the whole concept of Santa visiting kids and bringing gifts presents the same issue; not every household can afford this or wants to do this. That's why I fully support Santa not giving super expensive gifts (leave that to the parents, if they choose.
My son is too young to care about the elf on a shelf, but even when he's old enough to possibly care, I'm telling him that Santa is always watching, and if anyone else comes into this house solely to watch him, call the police.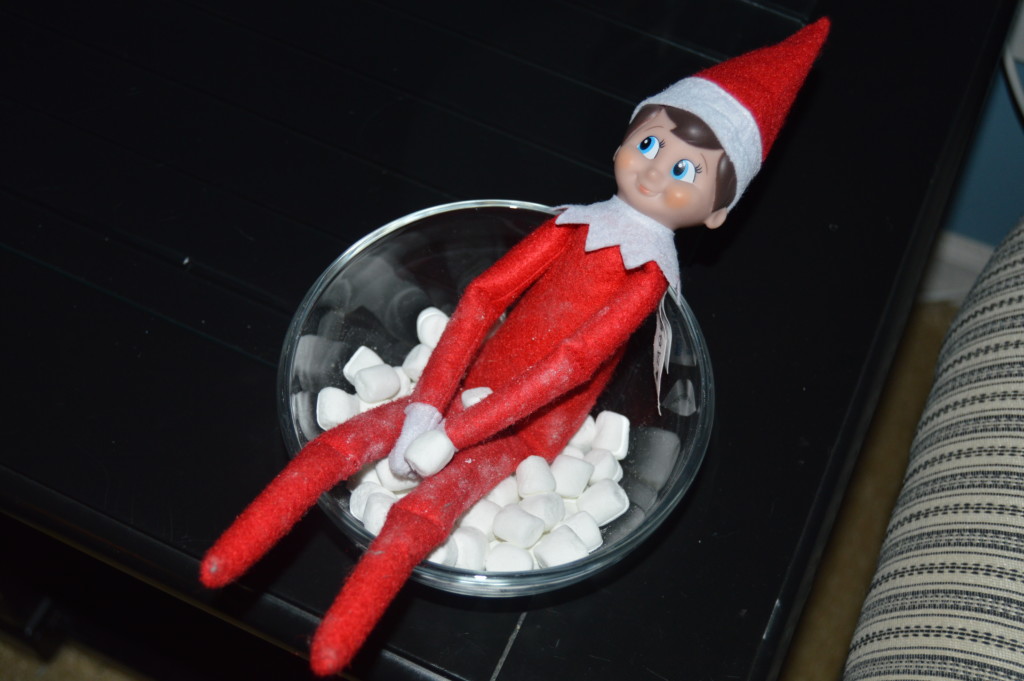 Go back, Elf.