"Your baby needs a helmet." It certainly isn't the worst phrase that I imagined someone telling me regarding my baby's health and wellness, but it isn't something I expected to hear either. I didn't know how I should react to the news, but some of my initial thoughts were, "Are people going to stare at him?" "Years from now, will he hate all of his baby photos?" "Did I not make him do enough tummy time?" "How much is this going to cost?" "If we don't do it, will he be upset with us later?" The list of racing thoughts in my mom brain went on and on and just wouldn't turn off.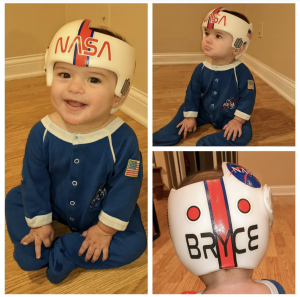 March 20th is National Plagiocephaly and Torticollis Awareness Day, so I want to share my nine-month-old son's journey with his DOC Band helmet in the hopes of shedding some light on this topic and bringing comfort to other parents going through this process. Shortly after my son Bryce was born, our pediatrician (an amazing, non-alarmist, caring woman) mentioned that our little guy seemed to favor looking to his right and had tense, tight neck muscles. She gave us some tips to help with his torticollis at home, including alternating which arm we held him in during feedings and changing the direction in which he laid in his bassinet and on his changing table. This proved to be the most challenging for us. It was as if we forgot how to change a diaper with his head on the opposite side of the changing table! Our pediatrician also explained that Bryce had a flat spot on the back and right side of his head, also known as plagiocephaly, which she said likely stemmed from him favoring sleeping with his head looking to the right. Every time he slept, we tried to turn his head in the opposite direction, but he always shifted back to his comfortable spot on the back/right side of his head. After his four-month check-up, we were told that he was doing much better looking to his left and not to worry about his flat spot anymore. Great! Parent victory!
When he was 5.5 months old, our daycare teacher (who I believe cares for our son as one of her own) passed along a message from a therapist who worked with another child in my son's classroom. I am sure my panicked mom brain misunderstood the message to a certain degree, but I heard, "Bryce should be evaluated for a helmet as soon as possible. If you don't, he could have permanent disfigurement, seizures, hearing issues, or vision loss." It was all I could do to keep it together as I carried both of my kids to the car before I burst into tears and called my unsuspecting husband to tell him we had failed our son because we didn't do something sooner. I called the clinic recommended by the mystery therapist as soon as their office opened the next morning and scheduled a consultation for my baby. I then phoned our pediatrician to ask her opinion on this unsolicited advice from a stranger. Her thoughts were that our son's flat spot was minor and would self-correct over time however, if my husband or I would potentially regret not seeking treatment, she would support us in our decision (seriously, she's an angel in a Rosie the Riveter pro-vaccine t-shirt).
In Indianapolis, multiple clinics complete this type of cranial helmet therapy, including Cranial Technologies, Transcend Orthotics and Prosthetics, and Hanger Clinic. We opted to schedule with Cranial Technologies for our consultation at the recommendation of the mystery therapist and our pediatrician's office, and we had a great, albeit emotional, experience. The consultation started with a sweet "baby imaging specialist" putting some pantyhose (at least that's how my brother-in-law described it) on my son's head so they could obtain images of his skull and face shape. It was remarkable how quickly they captured these photos on a wiggly baby and then put together the photos to create a virtual model of our son to be viewed on a television screen. We were not surprised that the clinic recommended that our son begin helmet therapy right away, although we were surprised that their measurements placed him in the "severe" category for plagiocephaly. Hearing the word "severe" set my mom brain into its all-too-familiar spiral, of course, but my husband and I did a decent job of not placing blame on ourselves.
After some debate amongst ourselves and determining whether or not the helmet would be approved by our health insurance (It had a price tag of over $2,000), we opted to move forward with treatment at the start of 2022, when our son was 6.5 months old. We learned that it is best to start treatment around four months of age, as their growth is more rapid at that stage, but we chose to wait until the start of the new year so that this investment would count towards our deductible for 2022. (Isn't it interesting having to make medical decisions based on finances/health insurance? But that's a topic for another time.) When our son received his helmet, we feared that it would cause him trouble sleeping (He already wasn't sleeping through the night), prevent him from hitting his developmental milestones on time (He wasn't yet rolling), and cause him to be uncomfortable or overheated. We have been very fortunate not to run into any of these issues! In fact, Bryce reaches for his helmet when we remove it for his one-hour "helmet break" and cleaning session each night, so we think he loves it! He is also rolling, sitting, crawling, standing, and sleeping (mostly) through the night.
We're now over two months into our son's treatment, and we hope to have his treatment completed before his first birthday in June! Overall, the experience has been much easier than anticipated, and our son has adjusted extremely well to his new headwear. We chose to add some fun NASA decals to Bryce's helmet just for flair! It also makes conversations with strangers easier when they want to ask questions about his helmet. I cannot say enough good things about the clinicians at our clinic, as they have always thoroughly answered our questions and seem excited to see Bryce and his progress every two weeks!