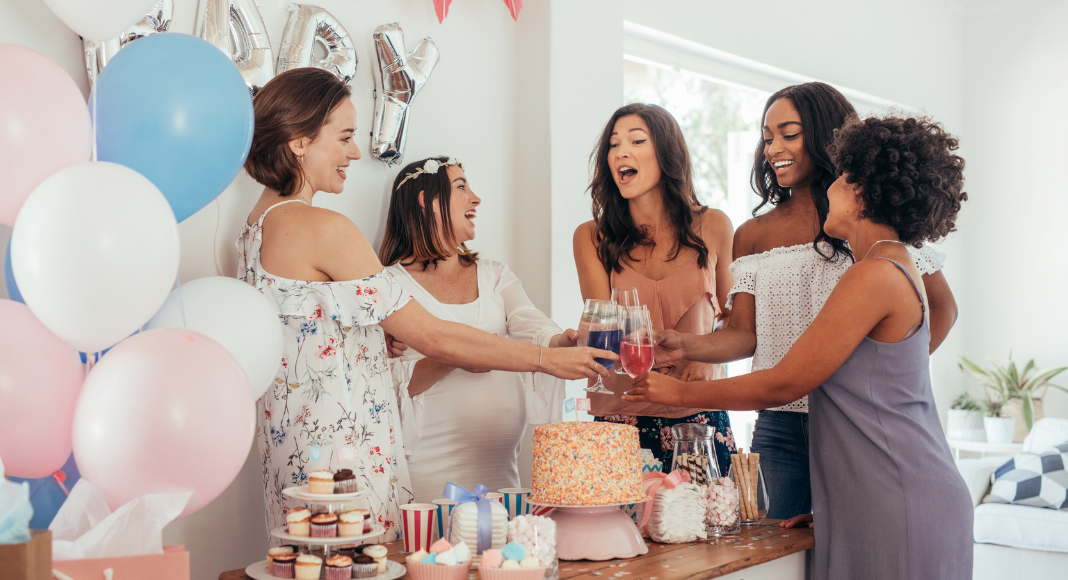 Millennials and Gen Z love to break tradition. We are going to many weddings now without bouquet tosses and first dances. Gender-neutral names are growing in popularity. It was previously traditional to have a bridal shower and baby shower, however, many people are choosing to forgo these traditions. I believe part of the difference is due to breaking tradition and the other part is due to the COVID pandemic. We are coming up on two years of reduced travel, limited gatherings, pandemic surges, mask recommendations, and event delays. Personally, I have a love-hate relationship with bridal and baby showers. I love gathering to celebrate the ones I care for, contributing in a small way to an expansion of their lives, and spending time with friends and family I may not get to see often. However, I'm over the traditional games played and the "leave advice for.." cards. If you also fall into this category, I am going to share ideas on how to break from the traditional baby shower.
Host a co-ed shower.
Co-ed showers are becoming more common, especially as younger generations break from traditional gender norms. Co-ed showers are often less formal and have activities or games that appeal to everyone at the party. Pinterest and Parents.com share great tips for hosting a co-ed baby shower and co-ed baby shower themes.
Host a virtual shower.
Pre-pandemic it was almost unheard of to have a virtual shower. Now, virtual showers are common, and I think they are here to stay. Nowadays we have family and friends all over the country and traveling for a baby shower may not be feasible. In the past, these loved ones often sent a gift but were not involved in the event. Now, with a virtual shower, everyone can be involved without travel and with pandemic safety in mind. Virtual showers are often shorter in duration than a traditional shower with fewer games and no, or limited, opening of gifts during the party. With virtual showers, gifts are mailed to the recipient ahead of time and the recipient may open the gifts when they are received. One idea for an activity at the virtual shower is to show some of the gifts you have already received and show their place in the nursery if this has been set up. Games can be emailed or mailed to guests ahead of time. A fun idea is for the host to send a small box to guests with games, decorations, and a gift or treat, such as a cookie or candy. Lastly, if someone is local to the guest of honor, coming in advance to decorate the area where the parent-to-be will be sitting, helps to add to the spirit of the event. Babylist and What to Expect both share tips and tricks on hosting a virtual baby shower.
Have your shower be an event or activity.
Think outside of the box for baby shower event locations. A baby shower could be at Top Golf, Board and Brush, Painting with a Twist, Symphony on the Prairie, a spa, a cooking class, or even a yoga class! The sky is the limit with locations and events that pique your interest. Coming together for an event or activity helps to engage guests and is a good alternative for parents-to-be that don't like to be the center of attention. Guests can be asked to mail their gifts ahead of time or only bring small gifts to the event.
Have multiple small group showers rather than one large shower.
Large groups can feel overwhelming, especially during a pandemic. Furthermore, the larger the group, often the higher the financial cost for the host. Having multiple small showers can keep groups intimate and personal. For example, a shower with your coworkers, another with family, and another with your college girlfriends. With smaller showers, you often have more flexibility to personalize each to the group. Your family shower may be more traditional or hosted during a normal family get-together, like Thanksgiving. Your coworker's shower may be a small luncheon or a short shower after work. With friends, you could do an overnight getaway or manicures and pedicures.
Have your shower be an open house.
An open house format for a baby shower is often less formal. Guests can come when they are able and leave when they need to. This can be a neat idea if you recently moved into a new home, or you would like to show off the nursery! An open house-style shower can be co-ed but does not need to be either. You can have games or activities set up that does not require the group to complete them all at the same time. Ideas for this can be a large board where each guest adds their name and their guesses for the baby's arrival date, weight, height, and physical features. Another table could be set up with a craft either for the parent-to-be to keep or for guests to take home. Guests can also complete baby-themed crossword puzzles or word searches for fun!
Have a theme for gifts or contributions towards larger items.
This option is especially common when people are having a baby shower for a child that is not their first child, when they have received many secondhand items, or they have limited space where they currently live. Ideas include a diaper party, a book party, or a clothing party. The parents-to-be may also ask for contributions towards large items such as the crib or stroller if they are not ready to buy the item yet at the time of the shower. Many online registries allow for group contributions for items over a certain price and registration for gift cards. Often, I hear people criticize the idea of showers for children that are not first-born. However, as I heard it said once, a baby shower is meant to celebrate the baby as much as the parents. Therefore, each baby deserves to be celebrated, even if they are not the firstborn. That resonated with me and changed my perspective on those baby showers. Plus, as those of us with children know, items can be ruined and need replacing! Sometimes safety standards change between children, or one child is still using an item by the time the next baby is arriving.
Wait to have a shower until after the baby arrives.
It is becoming increasingly popular again to wait to find out the baby's gender until their birthday. Instead of registering for all gender-neutral clothing or gender-neutral baby nursery theme, many parents are waiting to complete their baby registries until after the baby arrives. This may also be a good option for parents that have limited space or plan to move soon. The idea of a shower after the baby arrives may be overwhelming for many parents, so for this idea, a good support system with the host and others to help set up, take down, and manage the shower the day of, is vital. I would also recommend a shorter duration for this type of shower as to not tire mom and baby too much. This can be a great way to have family and friends meet the baby rather than trying to coordinate many different people visiting after the baby arrives.
The internet is full of ideas!
If you are offering to host a shower for someone, I encourage you to discuss what they would like for their shower and be willing to provide alternative options. Each person deserves to be celebrated in the way they feel most comfortable. If you are an expecting parent and have anxiety around a baby shower, What to Expect discussing coping with baby shower anxiety. For my first baby, I had a non-traditional baby shower. We chose multiple ideas above (co-ed and open house), and I had a great time! Even if my shower caused a couple of small waves, it was the right decision for our lifestyle.
Happy planning!