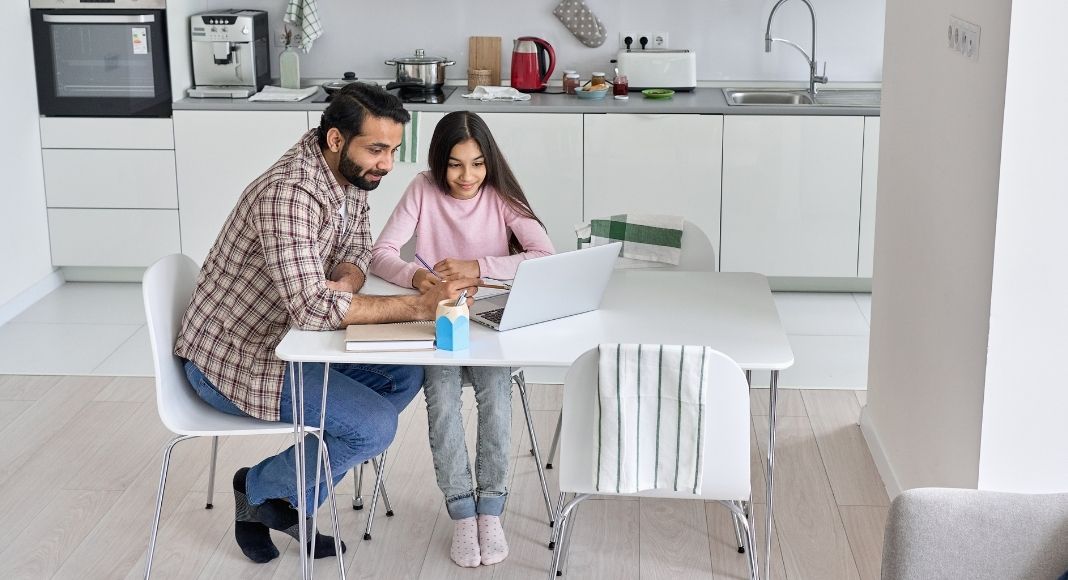 Seriously, a school year for the history books. From a parent's perspective of sending their young child into a building with 700+ other people during a national pandemic, most of them being ones that still struggle to blow their own noses; to a teacher's perspective of worrying how to keep 25 six-year-olds apart and socially distanced with a mask on for seven hours a day. At least we can say the 2020-2021 school year is officially closed. I am sitting here, reflecting as a 10 year experienced teacher, thinking about what I can take away from this interesting school year. One thing that comes to mind is the community that was built not only between staff and students but also between staff and parents.
I had an unusual school year, going back and forth between "remote" learning to "in person" learning numerous times. I built strong relationships with families, as we knew we had to lean on each other to help the most important thing: children. I don't mean necessarily helping them master their multiplication facts, but to make sure their social, emotional, and mental health was in check as well.
Then the worst happened and we went back virtually again. The thoughts of Spring 2020 rang violently through our heads and we had to adapt again. People across the globe, over the last year, learned some sort of new role and new "normal". This was no exception to you. You had to keep your profession intact, while potentially managing children of all ages, including being their "in-person" teacher. And thank you for giving teachers grace. Thank you for understanding as we occasionally forgot to mute and when assignments didn't turn out how we had hoped.
You worried you weren't doing it right. You worried about teaching them the "old school" way of math, not this "crazy" conceptual way us teachers make them do it. I know we get a little intense with teaching partial products. Is anyone screaming "The Box Method" right now? I know, I can hear you yelling through the computer screen: "JUST TEACH THE ALGORITHM AND MOVE ON!" We saw you helping the littlest learners stay focused and keep their mute buttons on, even when the impulse was strong to stay muted instead of telling a story about how they put their cat in a dress last night. We saw you sitting next to them, helping them with their reading and assignments that would have been 95% easier if they were done in their classroom.
This was also a year that I have communicated with you more than ever. With anywhere from messaging you about the endless amounts of technical issues we were having that day, but also "Hey, would you mind finding a new study spot for Jamie? She is asleep again." You may giggle at that last one, but I wouldn't have been able to teach my students anything without the endless amounts of parental support I had throughout the school year.
So, I am here to scream it from the rooftops: THANK YOU, PARENTS! You deserve just as much credit as teachers do this school year. You had to make sure your child was up, out of bed every morning, and ready to learn at their study spot. You had to make sure they were fed throughout the day, including the endless amounts of snacks they thought they needed.
Thank you for making sure your child had social opportunities while being socially distanced and safe during the pandemic. Thank you for understanding and having grace as us teachers, learned a whole new way of teaching, engaging students, and still building community among the classroom.
We [Teachers] could not have made the last year successful without you. Studies have shown that with your dedication and assistance in your child's education, test scores have not gone down. This pandemic didn't break our children. They came back more resilient and flexible than ever.
So, thank you, parents. Thank you for giving it your all, not only for your child but for all the children. Thank you for the simple "Thank yous" and "We appreciate everything you do." because those comments, as well as the sweet little faces staring back at us on screen, were what kept us going. Those simple words helped get us through tough days when we felt like we weren't making a difference. Those comments kept us going, pushing, and working hard to find the best way to teach in the most unusual settings.
Sincerely,
The Teachers of 2020-2021 School Year