We took our first family road trip when my oldest was 2 months old. With a car packed full of diapers, bottles, and a brand new pack n' play, we drove five hours north to Michigan, where my extended family would meet her for the first time. We were optimistic and excited, and very naive. Five years and two more children later, that pack n' play has made its way to many different states, on many different vacations. If only it could talk. I think most parents would agree that traveling with children is exhausting and patience-testing, and more of a trip than a vacation. Every time we take a road trip, I tell my husband that I must have travel amnesia. I get the urge to take a trip with my family a few times a year, and I forget how difficult it is until we're back in the car, doing it again. So… why is traveling with little kids worth it?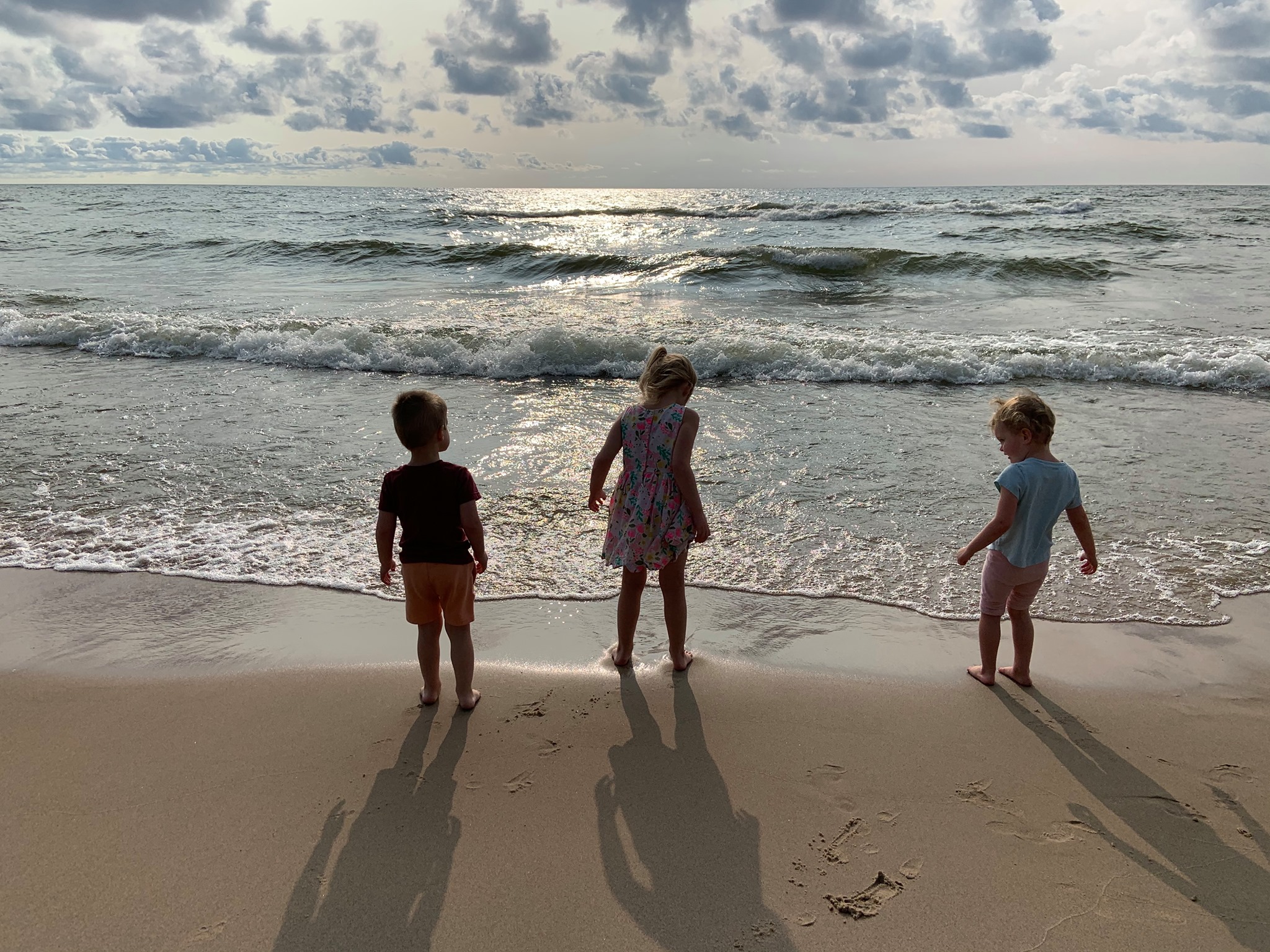 We're creating memories. Okay, here's the truth — my kids are 5, 3, and 1. It's not likely that they will remember all of our family vacations besides what they see in a photo album, but my husband and I will. From the first time my oldest daughter threw rocks in Lake Michigan, to the first time my son rode a Disney World bus (at 21 months old, this was a thrill for him), I will remember how happy they were and how grateful we felt as parents.
Young kids are less expensive. Kids under 2 fly free. Children under 3 years old do not need a ticket to enter Disney World parks. Many museums, zoos, and aquariums allow toddlers in for free, and plenty of restaurants offer free kids meals with the purchase of an adult meal. We have taken advantage of all of these things, and while I can't say that we did so stress-free, it has allowed our family to enjoy a lot of fun attractions at a more reasonable price.
They absorb more than we would think. When my oldest was 3 years old, we took a vacation to Mackinac Island, Michigan, where she spent hours throwing rocks in the water. Nearly three years later, she still talks about that being her favorite vacation memory and asks if we can go back and do it again. As of right now, this experience seems to be embedded in her memory. Similarly, my 3-year-old still talks about the tunnels that we drove through on a trip to Gatlinburg, Tennessee. They remember more than we'd think they would, and it's not something they can learn in a classroom.
You don't have to do or spend much to have fun. Young kids can find entertainment almost anywhere that they go. I know that this might change as they get older, so we are trying to take advantage of it right now. Throwing rocks in the water, exploring a local playground, hiking kid-friendly trails, taking a stroller ride through a new-to-us downtown area, and having a picnic in the park are all things that we have done while traveling, and there were no admission tickets or reservations required.
We enjoy quality time as a family. Life with little kids is exhausting. We go, go, go from the second they get up until the second they go down at bedtime, and after that, there is still laundry to fold, dishes to do, and bills to pay. Vacation takes us away from all of that, if just for a couple of nights.
And let's be honest, a couple of nights is just enough time to get away and have fun, and then we look forward to coming home to our own beds and a house that is babyproofed. Of course, once we are feeling as well-rested as we can with littles, the travel amnesia sets in and we get the itch to do it all over again, ready to make more memories.