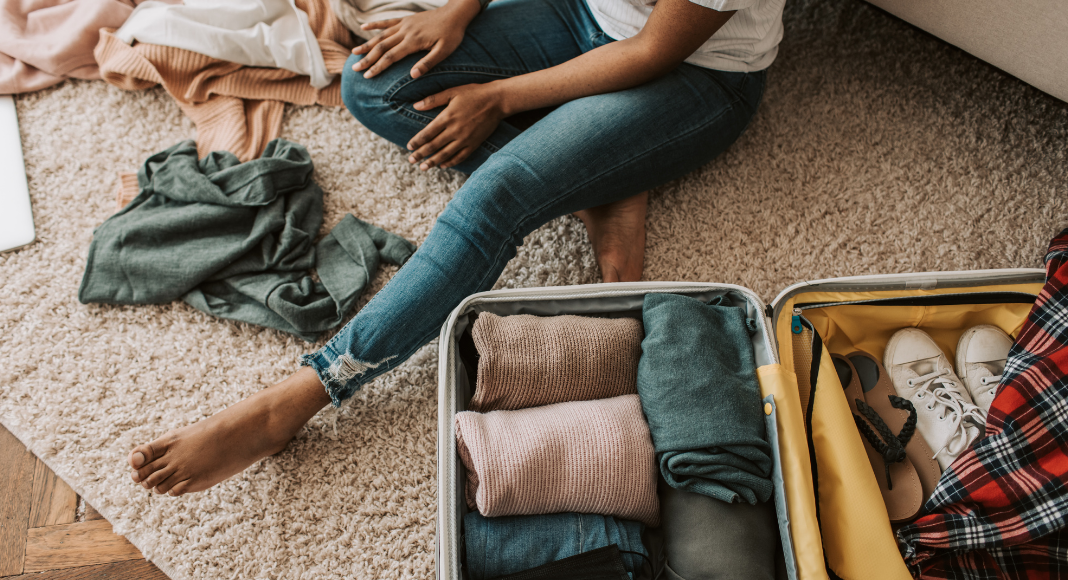 I'm here to ease your fears. I'm here to calm your nerves. I'm here to assure you that road tripping with kids doesn't have to be scary!
If you are like my husband, he would rather drive 385 hours (okay, that's dramatic, but you get it) versus spend $1,000-$2,000 on four plane tickets to Florida. Me, on the other hand, I'd be fine spending the money to get to Florida in 2-3 hours (nonstop, of course). Our compromise, I've now gone on four 10-14 hour road trips in the last five years. Ladies, we must keep our heads high and take our very few losses with grace.
With spring right around the corner, hallelujah, your family may be planning a spring break trip or even a summer trip. I hope to help ease your fears with some helpful tips, ideas, and resources to make your road trip with kids run smoothly and even enjoyable.
Traveling at Night
Picking a time to travel when you have children, babies or toddlers especially is very important. Young children are schedule sensitive, and parents know when nap time or bedtime is altered, saddle up partner.
To avoid overly tired children, try traveling through the night. Have your vehicle completely packed up and ready to go, and then complete the bedtime routine as you normally would. Instead of laying the children down in their beds, you load them up in their car seats.
Traveling through the night is taxing on the driver(s). If you choose to travel through the night, make sure to have a plan set up so you know who is taking which shift, an entertainment source to keep you occupied (like podcasts), and plenty of snacks & drinks (more on this later).
Traveling through the night isn't for everyone and isn't able to be done sometimes for various reasons. Continue reading for tips and ideas that can be used during the day!
Cozy Environment
If you choose to road trip with kids through the night, make sure that you set up your vehicle to be cozy and mimic their sleeping environment at home. Each of our boys brings their own special blanket and a stuffed animal of their choice. The real game-changer, though, is the sound machine. Each of our boys has one in their rooms, so they have always gone to sleep with the "white noise" setting. Batteries or an outlet can power this particular sound machine.
Snacks and Drinks
Whether you choose to road trip with kids through the day or night, a bag of snacks and a cooler of drinks are a must. Gas station stops can get expensive when you buy a snack and drink for everyone in your car. Toddlers are infamous for asking for a snack and then not finishing the snack or figuring out how many pieces of snack they can spread all over the car, so try and avoid spending all of that extra money on a snack that may end up on the floor of your car. Plus, you can control the variety when you pack your own snacks. I don't know about you, but whenever I enter a gas station on a road trip, the urge to buy a Reese's Fast Break just comes over me. But snacking on my homemade trail mix that actually fills me up is a much healthier choice!
After you purchase the snacks you want to bring with you, I suggest moving them to new containers. Most snack bags are not resealable so as to avoid a mess, rubber bands, etc., move your snacks to ziplock bags before you leave. For example, for our last trip, I brought a bag of veggie straws (What toddler doesn't love veggie straws?), but the bag doesn't reseal, so I emptied the bag into a gallon ziplock back so that I could serve the boys a portion and then reseal it until they wanted more.
How do I serve the boys snacks? I use these. My youngest is two years old and is famous for dumping out bags of snacks because he can't get his hand to the bottom of the bag. To avoid that, I use these small storage containers.
We also like to bring along fruits and vegetables to snack on. These storage containers have been one of my favorite road trip purchases. The hard container helps your fruit not get smashed in the cooler, and the basket helps drain any excess juice. No soggy fruit here!
If you go through a drive-thru, these containers are perfect for kids' meals while traveling. I will move our boys' meals to these containers, and their containers can lay flat on their lap tables (more on these below!) for easy eating. The lid is an extra awesome bonus. If they don't eat their entire meal, just put the lid on and keep it for later in your cooler or keep a mess contained until you can clean it out.
Tablets
Our Amazon Fire Kids Tablets have been such a lifesaver when we road trip with kids. (For a hotspot tip, keep reading!) Our boys love watching their favorite movies and tv shows. They also love playing on their ABC Mouse accounts. Learning games, yes please!
Hotspot
On my phone and my husband's phone, we both have Hotspots. This is a way of accessing wifi for our other devices, like the boys' tablets. A hotspot is a must if your children have devices during your trip. Thank me later!
Lap Tables
As my boys got older, they needed a surface to play on, eat their food, or even set their tablets on. These lap tables work perfectly for our extended road trips with kids. Make sure to do your research and compare the size of the lap tables to your child's seat. I measured the width of my boys' seats to make sure the flaps of this lap table would lay down the side of it. A helpful feature of this particular table is that a strap snaps around the back of the seat so it won't fall off the boys' lap!
Visual Map
"Are we there yet?" "I'm tired of waiting." "How much longer?"
If you've taken a road trip with kids, you've heard (or maybe even said) these phrases. To keep your child updated on where you are in your journey, you can create one of these visual maps. You'll need: printouts of the states you're traveling through/to (I laminated ours to help make them stronger), a picture of your car hot glued onto a clothespin, a hole punch, and string or twine.
Activity Bin/Crate
An activity bin is essential on vacation, no matter your child's age. The items in my boys' bin have aged with them. My boys are 17 months apart, so they have very similar interests. I have the same thing in each bin for most of their items to avoid any arguing. We currently have a Nissan Rogue. Our activity bins both fit perfectly in the middle of their seats for easy access. To ensure that they will not fall down during stops, turns, etc. I use a small bungee cord to attach to the bottom of both of the boys' seats, so they are held there.
Activity/Game Binder
I put together an activity binder for each of our boys. Since there is a small age gap between the boys, 17 months, their activity binders did differ slightly.
I printed out different things from my computer for our activity binders, laminated them, and did any necessary assembling. If you don't have a printer, you could also collect pages from different coloring books or activity books and add them to a binder for easy access. If you want the pages to be reusable, place them on a protective sheet.
I add a pencil bag with three-ring binder holes in the front of each binder. Inside of this pouch, I include dry erase markers that have the eraser on the cap. (One less thing for them to lose.)
The boys had the following activities in their binders: shape tracing, line tracing, number tracing, letter tracing, coloring pages of dinosaurs, and uppercase/lowercase match. These are easy to differentiate based on age and skill level. I found all of my activities on Pinterest, TeachersPayTeachers, or Etsy.
I hope this list helps your future road trips with kids run smoothly, less stressful, and of course, lots of fun! Enjoy your little ones (or big ones), soak in all of the little moments that create beautiful memories on your vacation, and don't sweat the small stuff. (I'm still working on that last one too.)
"Why aren't we flying? Because getting there is half the fun. You know that." — Clark Griswold, National Lampoon's Vacation