As I sit in the midst of a particularly brutal Indiana winter day, I am dreaming of summer and summer vacations. Perhaps, if you're like me, you're dreaming of your own summer vacation to Walt Disney World!
Yes, I am one of "those crazy Disney people," as a colleague once called me in jest. It doesn't matter if you've never been to Disney or haven't been since your own childhood. I'm happy to report that there is plenty of magic, both new and old, for you and your little ones to explore in central Florida.
Before you go, planning is key! Even the most organized, planner-loving moms can use the help of a pro. A helpful and absolutely *FREE* resource is the official PlanDisney website. Each year, Disney handpicks nearly 50 dedicated, knowledgeable Disneyphiles to serve on the panel, and many are parents and grandparents who have experienced all that Walt Disney World has to offer many times with their own families. Ask your own questions or, if you're feeling a little shy, peruse the hundreds of answered questions and tips. I also highly recommend consulting with a travel agent that specializes in Disney vacations. Travel agents do not typically charge a fee to help you plan and book flights, hotels, tickets, and even dining reservations and are another means to make the most of your stay.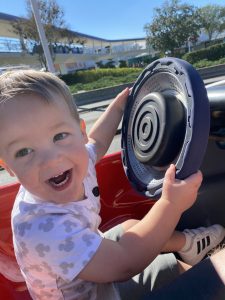 Once you've planned, it's time to hit the road, or the sky, as the case may be. With two children under the age of three in our family, my husband and I prefer to fly as a way to reduce the typical travel stress and arrive at our Disney destination quicker. If you're worried about hauling a lot of baby gear, you'll be excited to learn that Disney provides cribs and pack n' plays at all of their resorts, along with high chairs too. We've also loved the free transportation perk that comes with staying at an official Walt Disney World resort hotel. Monorails, boats, or buses can whisk you just about anywhere you want to go within the 42 square miles that comprise Walt Disney World. The best part? You don't even need your car seats, and all forms of transportation are stroller-friendly. Speaking of strollers, be sure your stroller is compliant with Disney stroller rules that prohibit stroller wagons and strollers over a certain size. There are several reputable stroller rental companies that deliver directly to your hotel in case you want to leave your stroller at home.
So you make it to The Happiest Place on Earth…what to do first?! The internet is rife with all kinds of differing Disney opinions, and I personally think you should see and do everything! The reality, however, is that this just isn't feasible or enjoyable for most families. My final five often overlooked tips for making the most of the magic in the four Walt Disney World theme parks and around the Walt Disney World resort with your young children:
Download Disney's MyDisneyExperience app
Make sure to download Disney's MyDisneyExperience app to your phone and plan kid-friendly rides on your own wish list in advance. This app will be your guide as you explore the parks with important information like ride height requirements, showtimes, and ride queue wait times.
Don't overschedule your days!
Just because you can hop between the four Disney World theme parks doesn't mean that you should. Park hopping can consume valuable time and energy, especially with young children, which just doesn't add value to your trip. Let your little ones set the pace and allow plenty of time for snacks, bathroom breaks, diaper changes, and just meandering in the parks.
Prioritize your parks!
Magic Kingdom is the epitome of Disney World. If I could only visit one park, Magic Kingdom would be my choice. It is the most accommodating of the youngest children and has something for any age. You can even enjoy lunch or dinner with Cinderella inside Cinderella's Castle overlooking the park.
EPCOT has Future World, including a Moana-themed ride that is coming soon. It also has World Showcase which is the perfect spanse of different areas themed to countries that will allow your whole family to immersively explore the world.
Hollywood Studios has Toy Story Land which is a huge hit with my toddler. Many young children also enjoy the shows, including a Disney Jr. Dance Party featuring all of the favorite Disney Jr. characters. Don't miss the meet and greet with Doc McStuffins!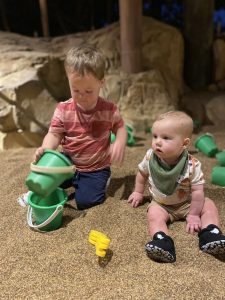 Animal Kingdom is full of animals and includes a safari unlike any other and the best Lion King show. This park is large but closes earlier in the evenings since the animals have to go to sleep! The pace of this park is very toddler-friendly and provides a nice way to break up multiple consecutive days spent in the four theme parks. We spent a ton of time at the Boneyard Playground, a toddler-friendly archaeological site.
Use the Baby Care Centers.
Don't let the name fool you; these hidden gems are a lovely, air-conditioned, and quiet place to take a respite from the hustle and bustle of a day at the Disney theme parks. You can rest and take advantage of the changing tables, restrooms, feeding prep area, nursing and pumping rooms for breastfeeding moms, and even couches and movies to give your kids a cozy break. They also have baby and child supplies available for purchase. Another alternative when you need a break is the playground areas in each of the theme parks that are perfect for the youngest children while older children are riding thrill rides they may not be tall enough to ride.
Take advantage of Rider Switch Service
Just because you're the parent or caregiver doesn't mean you don't deserve to enjoy the magic of thrill rides too! This service allows one adult to wait with children or other non-riders while the other adult(s) or older children wait in line and then enjoy the attraction. Then, when the other adult and the rest of the party returns, the adult who was waiting gets to skip the line and enjoy the ride as well. My husband and I like to leverage this during nap times to get in the rides our sons are not tall enough to ride.
Walt Disney World is magical at any age, but especially for young children. Whether your family is keeping things cool with Elsa and Anna from Frozen or toying around with Buzz Lightyear and Woody, braving a trip to Disney World with your children is bound to create memories that will last a lifetime.