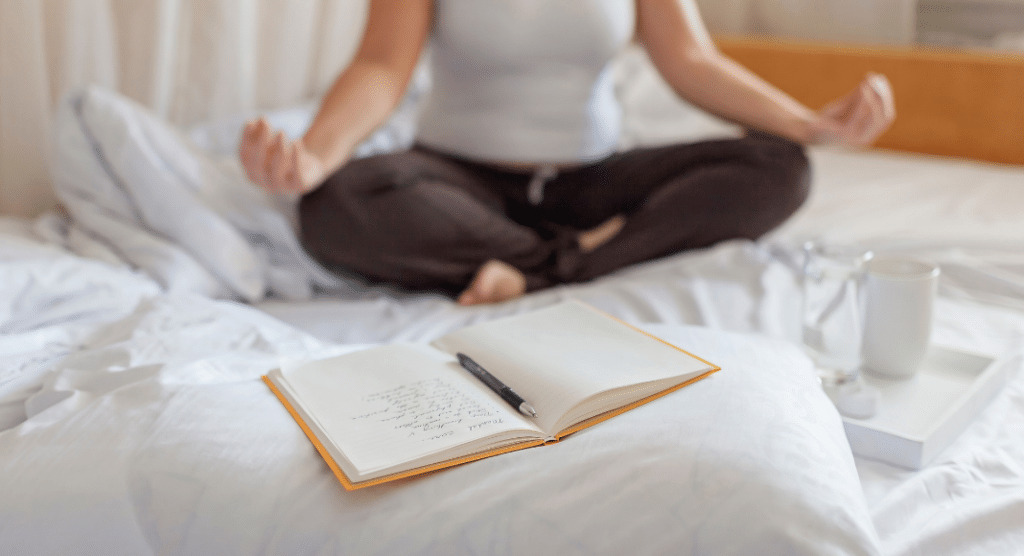 My summer birthday gift to myself is a midyear personal reflection. I've always loved having a summer birthday. I love summer and the warm nights and outdoor adventures. I'm not huge on my own birthday celebrations, but I have learned that I like small meaningful celebrations, and I've also realized I really like to have a yearly personal reflection. A mid-year check-in. A refresh and restart.
I taught school before being a stay-at-home mom, so I think always having a summer break has helped me create this routine. As a teacher, at the end of the year, I'd reflect on my year in the classroom–highs and lows, etc. And since the end of the school year and early June often coincide, my reflection was on my school year but also on my life.
I don't have a strict ritual in my reflection, but I've come up with a few guidelines to share if you want to reflect around your birthday or have a little mid-summer reflection.
What were some highlights of the last year?
It's so easy to get caught up in the negative, but I've found that even in rough years, there are some highlights. This last year our oldest started kindergarten. And to see her excel and love school was definitely a highlight of my 40th year. Having a midyear personal reflection can even help with my kid's school reflection too.
What were some of the harder things this last year, and how did you handle it?
I turned 40 last year, and I think I realized I am getting older. I noticed the normal things like more grey hair and lines on my face but also the reality that I won't be here forever. I'm praying for a long life where I get to see my kids grow up, where I get to have slow mornings with my husband, and get to enjoy aging. But I know that's not always the reality. My 46-year-old brother died unexpectedly this last year. It was and has been hard. I'm not sure I'm handling it well, but I do know grief can be detrimental to our health. And grief and loss have layers. One of these layers has been the reality of my own mortality. Not in a negative way but in reality. I want to be healthy for my family and for myself and make overall healthy choices. So, I had my annual checkup and asked for lots of tests to see how things are going on. I also had a heart screening done through Community Health. I'm not sure if this is a good way to deal with my grief of my brother's death, but it's a proactive thing I can do for my own self-care during this time. Sometimes making and keeping a doctor's appointment is self-care.
What are you looking forward to this year? 
For my 41st year, I am looking forward to being purposeful in family activities and events. I'm looking forward to the fact that my parents now live closer and hopefully we can see each other more often. I am looking forward to creating memories as our three kids move from the baby stages to toddler and bigger kid years.
How's your new year's resolution going?
If you make New Year's resolutions, the summer is also a great time to reflect and check in with those goals. Some years I do, and some years I don't. Some years I've chosen a word or theme for the year. So having a June birthday allows me to reflect on that goal or word and refocus.
Whenever your birthday, hopefully, you take time to celebrate yourself and your life. And maybe take time this summer for a little midyear personal reflection.