As many of us enter the new year with a resolution to eat healthier, you may have a friend or two who are taking on a round of Whole30 at the beginning of the year. Whole30 is a program that focuses on whole-food-based nutrition for a 30 day period. You can read all about the ins and outs of the Whole30 program here! For the second year in a row, I have a group of friends who are taking on a round of Whole30 this winter. Rather than searching Pinterest for hours to find recipes that may or may not pass the family taste test, we share the winners (and losers) with each other. Here are some of our collective favorites.
Breakfast
Mocha chia seed oatmeal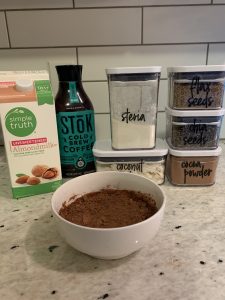 2tbsp chia seeds
2tbsp shredded coconut
1tbsp ground flax seed
1tbsp unsweetened cocoa powder
¼c unsweetened almond milk
¼c black coffee
pinch of your sweetener of choice
Combine all ingredients and place in the fridge for overnight oats or heat in the microwave for 1 minute.
If you are not following the guidelines of Whole30, mix in a scoop of your favorite chocolate protein powder and top it with peanut butter for a delicious protein-packed breakfast.
Lunches and Dinner
One of the benefits of a winter round of Whole30 is the abundance of soup and casserole recipes that are hearty, soul-warming, and meet the gluten and dairy-free guidelines. Another perk- most soups and casseroles can be prepped ahead of time and simply heated up on those busy weeknights! Our group found meal prep to be key for successfully completing a round of Whole30.
This hearty zuppa toscana soup from 40 Aprons is cold winter night dinner perfection. You can make the soup spicier with additional red pepper flakes or eliminate them if your family prefers a more neutral palate. My husband and kids DEVOURED this soup. It's perfect for making on Indianapolis Moms Sunday Soupday!
Casseroles have come a long way since your grandma served one up in her Pyrex dishes. Just Jessie B shared her loaded chicken and potato casserole, and it is delicious, kid-friendly, packed with veggies, and can be made ahead of time. While not compliant with Whole30, topping this casserole with shredded cheese makes it absolutely divine!
Our favorite recipes are given the title of "not just Whole30 delicious but every day delicious" in our group. These are recipes that are amazing despite having no dairy, gluten, or sugar. The spaghetti squash chicken pad Thai from PaleoRunningMama is one of those recipes. Super easy preparation makes this a perfect weeknight meal. I've made this recipe with both spaghetti squash and zucchini noodles, and both times, the family ate every last bite. By far one of my favorite recipes ever!
If our group were to give a Whole30 gold medal away to our favorite recipe, Mary's Whole Life Mississippi pot roast would win. This recipe is everything moms are looking for- delicious, healthy, made in a crockpot, kid and husband-approved. This roast is on regular rotation in our home! Served with mashed potatoes and roasted broccoli, it will make you forget there is no butter. It's a perfect family dinner for a cold night.
Even if eating healthier or completing a round of Whole 30 are not on your new year's resolution list, these recipes are worth trying out. Focusing on whole food nutrition and new flavors is something we can all strive for in the new year!