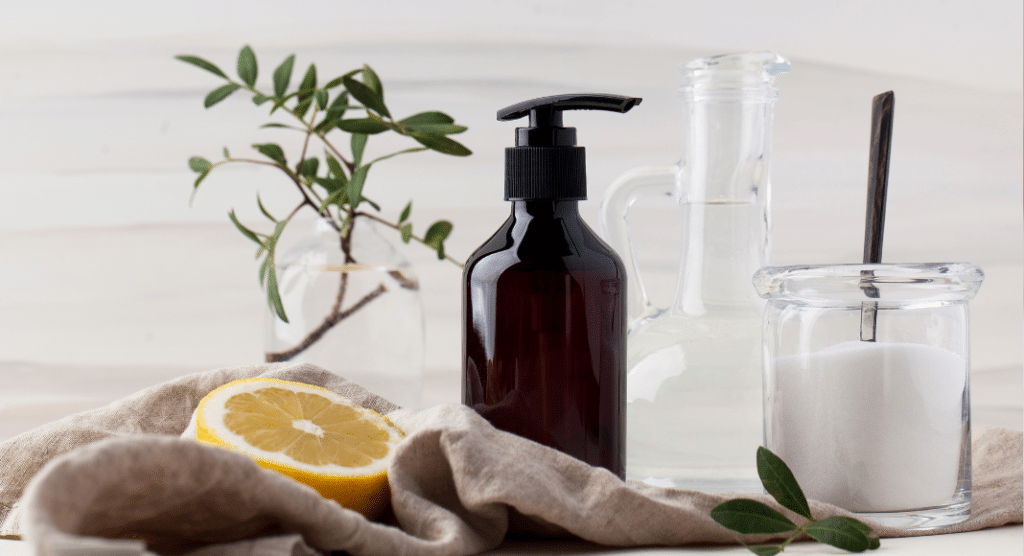 As a certified "scrunchy" mom, there is no shortage of homemade and nontoxic items in my home. While you won't find any room fresheners exuding migraine-inducing fake fragrances, you'll absolutely still see a bottle of bleach that gets pulled out faster than Usain Bolt at the first sign of a stomach bug. But when I can, I prefer to use household products that I know are safer. I've experienced a lot of trial-and-error while concocting these DIY products, but it makes me feel good to know that I'm not exposing my family to neurotoxins, endocrine disruptors, or carcinogens when I have control to avoid it. I also find that making them myself saves me money instead of paying for the big brand names. Here are some of my favorite homemade cleaning products that you need to try!
Laundry Booster and Softener
These two recipes are ways I boost my laundry in similar ways that OxiClean or fabric softener might. For fabric softener, I simply use about two tablespoons of white vinegar in place of the bottle with the snuggly baby or bear. I put it right into the slot of my washer that indicates "fabric softener." To boost my detergent's power, I mix 2 cups Epsom salt and 1 cup baking soda. You can also add in about 25 drops of an essential oil of your choice! I use about 1/4 cup in each load. I notice a big difference in my clothes in terms of brightness, odor, and softness when using these!
Glass Cleaner
This recipe comes from my husband's grandma. I actually still use the bottle she wrote the original recipe on! But if you need a new bottle to store it, these work great.
1/2 cup rubbing alcohol
1/4 cup white vinegar
fill the rest of the spray bottle with filtered or distilled water
Hand Soap
1/2 cup castile soap
fill the rest of the dispenser with filtered or distilled water
Dr. Bronner's is my favorite brand for castile soap. You can get one of their scented soaps, or get the "baby" version and add your own custom scent. I find that my skin doesn't dry out like it would with store bought soaps when using this!
Carpet Refresher and Sink Deodorizer
This cleaning product is really versatile. I simply grab a large container and pour a few cups of baking soda in. Then I add a few drops of essential oil (like lemon, peppermint, or grapefruit), put a lid on, and shake it up to distribute. To use this as a carpet refresher (super helpful with a big, stinky dog like mine), sprinkle it over the carpet and let it sit for a few minutes before vacuuming up. For a sink deodorizer: put the stopper in the sink, sprinkle enough baking soda mixture to cover the sink, add some warm water, and scrub or let sit a while before rinsing. When you rinse with hot water and (you guessed it) vinegar for extra bubbling-up power, it'll deodorize your drain too!
All-Purpose Cleaner
I have such a nostalgic love for Pine-sol. It reminds me of my grandma's house in the days of old. I actually did purchase a bottle mid-pandemic after reading that it can kill the virus. I've since found a recipe that is just as good and can be used nearly everywhere in your home, from counters to floors to toys to toilets!
Fill a large mason or glass jar 3/4 full with fresh pine needles (you can also include the small branches). Add in a few cleaned lemon peels. (If you want to spice it up – literally – add in a few whole cloves.) Fill the jar halfway with white vinegar and the other half with distilled or filtered water. Let it sit for a couple of weeks or a few months in a cool, dark place to become potent. Then strain the liquid into a bottle and use it to your heart's desire!
I'd love to know if you try these recipes or have other homemade household cleaning products you love!