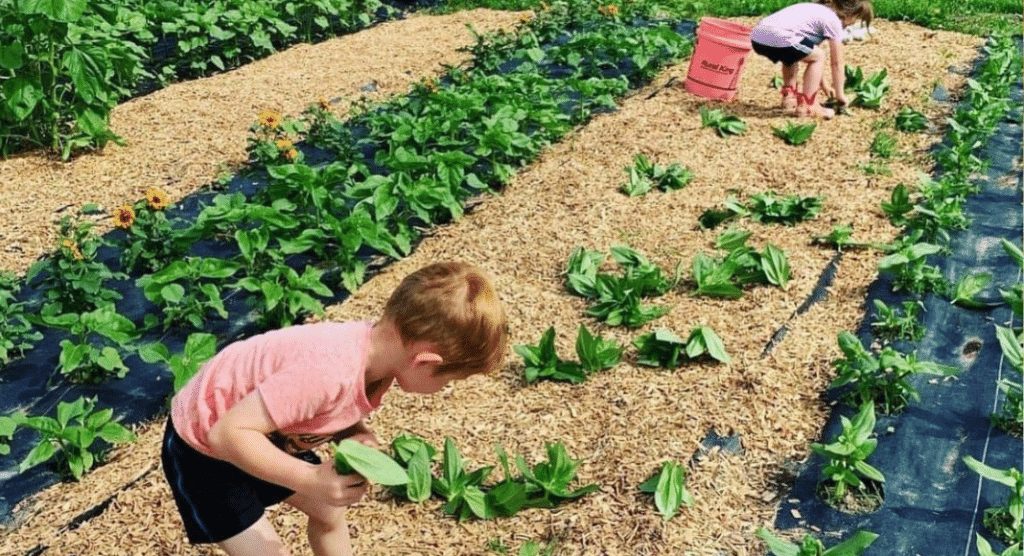 We have a pretty sad little vegetable garden in our backyard. My kids couldn't love it more. They check the progress of the plants daily. They want to water it. When the veggies are ready, they want to be the ones harvesting. Our five-year-old started growing a bean seed in a "sprout house" at preschool, and now the bean has been lovingly transferred to our garden. She checks on "her bean" daily, and I'm happy to report it's still alive and growing.
Our little garden is magical to my kids, and it feels like a place brimming with even more untapped potential. It could be a place for my kids to have even more ownership, engage their five senses, learn, and explore. If you're like me and are sort of just winging things with your garden, the idea of creating a sensory garden for kids might sound overwhelming. Luckily, one of my friends is an expert, and she gave me some easy tips for creating a fun, beautiful, and educational space for your kids right in your own backyard.
Laura Deck owns and operates The Seedlings Flower Farm in Bloomington. She is a busy mom of three kids and loves embarking on new adventures in the garden with her children. She shared some great tips for creating a sensory garden with your kids and some easy-to-grow flowers, herbs, and veggies to set beginners up for success!
Planting for sight
When Laura created a sensory garden for her kids, they planted flowers by color, practicing the color names. Her kids also painted rocks and added them to the garden for some color even before anything bloomed.
Laura's recommendations for colorful, easy-to-grow flowers (that are all taste-friendly!): Cosmos, sunflowers, zinnias, coxcombs, marigolds
Planting for touch
There are already so many fun textures to explore in a garden, from the rocks to the dirt to the worms to the plants. For a sensory garden, Laura recommends planting lamb's ear for its super soft leaves kids will love to touch.
Planting for smell
When creating your sensory garden, choose plants kids will be able to smell. Herbs like oregano or Russian sage have a powerful smell kids will notice while working or playing in their garden.
Laura's recommendations for easy-to-grow herbs that smell great: Pineapple mint, spearmint, chocolate mint, lavender
Planting for taste
Choose plants kids can sample right there in the garden!
Laura's recommendations for easy-to-grow veggies: Cucumbers, cherry tomatoes, zucchinis
Using hearing in your garden
After your hard work of planting, spend time in and near your sensory garden with your kids. Laura shared that to incorporate the sense of hearing; she would play "I hear with my little ear" with her kids while sitting in the garden. This game allowed the kids to quiet themselves and listen to all the sounds of nature around them.
Extending educational opportunities in your sensory garden
When the time comes to harvest herbs, veggies, and flowers, use it as an educational opportunity for your kids. Laura shared that they would practice counting while harvesting. As the kids got older, they would practice counting by tens. Kids can also group the harvest by color, size, or categories they create. Laura's family also built fairy gardens near their sensory gardens, sparking imaginative play.
Creating a sensory garden with your kids gives them a memorable experience and a harvest to be proud of. I'm thankful for these tips from Laura that make creating a sensory garden seem doable and something my kids will absolutely love.
You can visit Laura's farm in Bloomington from July through October on Saturday mornings for u-pick flowers. Look for opening dates at The Seedlings Flower Truck.