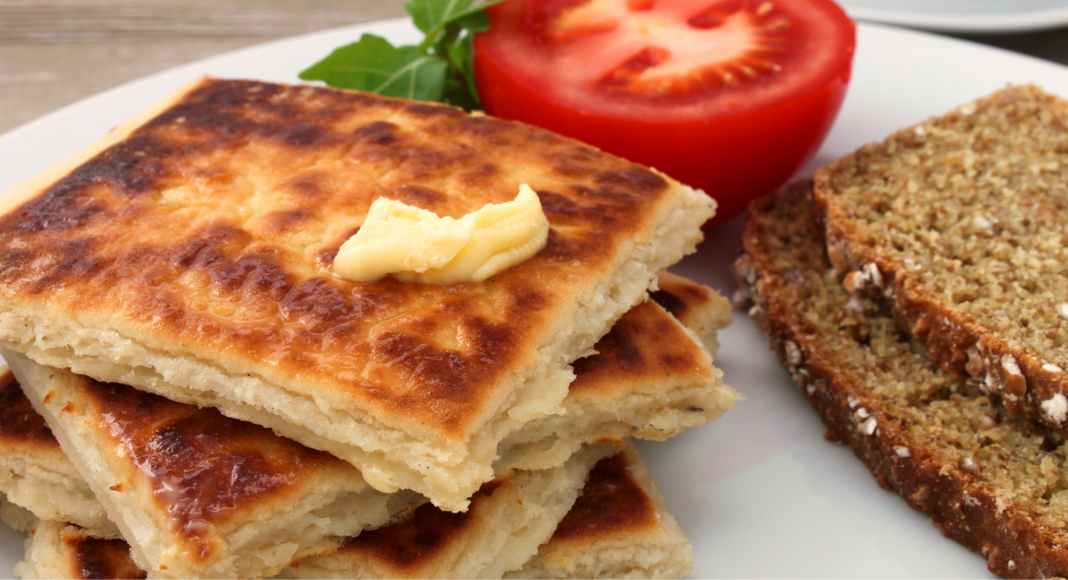 St. Patrick's Day is here and being from Ireland, I thought I would share one of my favorite recipes, Irish Potato Bread, which also happens to be super kid-friendly and perfect for the Indianapolis Moms What's Cooking Wednesday!
I was born in the Irish province of Ulster and according to my Ancestry DNA results, my entire heritage hails from this small province in the North of Ireland. An Ulster Fry, which is a large cooked breakfast, is arguably the most favorite dish in this part of Ireland and one of the mandatory items within this breakfast is Irish Potato Bread. Although Potato Bread is considered to be a breakfast item, it is also good with butter and jam as a snack or lunch along with a strong cup of Irish breakfast tea.
Although Ireland is a small country, recipes differ from North to South and East to West and Irish Potato Bread is no different. Potato Bread or a variant can be found in nearly every part of Ireland, sometimes called Potato Farls, Potato Scones, Boxty or Fadge and Scotland itself has it's own version called Tattie Scones. It is difficult to find Potato Bread outside of these provinces and therefore, it was a recipe I had to learn in order to satisfy my cravings.
I have chosen to share the Potato Bread recipe on the Indianapolis Moms for two reasons. Number one; it is delish! And number 2; it's an easy recipe which is great to make with kids. 
Due to lack of access to ingredients on the island in past centuries, Irish recipes tend to focus on less ingredients. Personally, I prefer the simpler recipes, however, this is your recipe and you have the creative right to add different flavors if you feel it is called for. As we have allergies in our home, I have included directions to make this recipe both dairy-free (vegan) and gluten-free.

So let's get started!
Ingredients:
1lb of Russet potatoes (roughly 4 large potatoes)
1/2 cup of white flour sifted and extra for rolling (for gluten free use Bob's Red Mill Gluten Free 1 to 1 Baking Flour)
Tablespoon of butter (you can sub for dairy-free/vegan butter)
1/2 teaspoon of salt
Tablespoon of oil or butter to grease the pan before cooking
Directions:
Peel potatoes and cut into smaller chunks. Add potatoes to a large pot of water. Add salt. Bring potatoes to the boil and then reduce to a simmer for around 20 minutes or until cooked through and tender.
2. Once potatoes have boiled, strain them with a colander and leave to cool.
3. When potatoes have cooled, add butter and mash potatoes user a masher or a fork.
4. Add sifted flour gradually and knead into the mashed potatoes using hands. When the dough becomes pliable and manageable, it is ready to be rolled (Mom tip: it should feel similar to play-dough). If at any stage the dough feels sticky, add more flour
5. Lightly flour a clean surface and place the dough. Divide dough into 6 equal parts and shape into balls. 
6. Lightly flour a rolling pin and roll out one ball of dough to the desired thickness (roughly one eighth of an inch to a quarter of an inch)
7. Cut the rolled dough into quarters (Mom Tip: you can use cookie cutters to shape the bread into fun shapes!).
8. Place oil or butter onto a non-stick pan over medium heat.
9. Place shaped dough onto the pan. Fry until golden. Flip dough to fry other side. When other side is golden, the bread is ready.
10. Remove Irish Potato Bread and enjoy! Bread can be stored in the refrigerator and toasted or heated later. Bread can also be frozen for up to one month.