The first time it happened it, quite literally, sucked the air out of me. "Happy Memorial Day!" the gas station attendant called as I was walking out the door. It stopped me in my tracks. You don't think about these casual phrases as you grow up, how the word 'Happy' and 'Memorial' shouldn't ever be in the same sentence. Save the "Happy" for Veteran's Day, honoring the servicemen and women who have served our country. When I was younger I would tear up at the fireworks display, see the photos of the soldiers who weren't coming home and feel so sad for them, their families, and all the people they left behind. It was an abstract ache. I even felt pride for them, their sacrifices keeping us all safe. Then I would joyfully return to the harbinger of summer; the three-day weekend of pools opening, BBQs, lightning bugs, and flip flops. This might be surprising to you since I spent my formative years living on military bases, with an active-duty naval officer at my breakfast table (when he wasn't out to sea.) Memorial Day isn't a holiday anymore. It's a day of remembrance, a day where I show my children a folded flag in a shadow box given to me graveside at Arlington National Cemetery as the 21-gun salute reverberated through my tear-wracked body.
For me, being a military child meant belonging to a community; a family. My peers didn't find it odd that I moved every other year or that my dad couldn't be at my middle school graduation. When we lost him, we lost our home on base, friends moved on to the next ship and we were left to find a new way of life. Memorial Day is a reminder not only of our personal grief but the grief felt in losing that. As each one of his peers got promoted, moved on to new commands, and even retired it has been a reminder of, "what if?" In the normal course of loss, the loss in and of itself reverberates throughout your personal life but in our case, it felt as if we were dropped into a whole new world, a civilian life we were in no way prepared for.
I spend an inordinate amount of time contemplating how Memorial Day became a celebration. How a somber day of remembrance has somehow morphed into a backyard gathering, a day of relaxation, and the precipice of summer. How many people even acknowledge December 7th? Pearl Harbor Remembrance Day honors more than 2,400 deaths and the beginning of WWII. Over the last 80 years it has become an afterthought, if it was marked as a holiday off of work, would more people acknowledge it? In that same vein, how will we mark the losses sustained by our country on September 11, 2001? While our generation lived through the horrific attack on our citizens, how will our grandchildren feel when it's just a classroom history lesson? Patriot Day isn't a Federal Holiday and, like in Hawaii, its aftereffects will lessen over time, this how grief works.
Here's the thing, I don't know how to make Memorial Day less personal for me. I lost my dad before I got married, or had children; I've watched my mother navigate not even the loss of her soulmate but also her sense of belonging to a community that had been hers. I took a hard copy of an ultrasound to a white marble headstone instead of having an adorable video of telling my parents that they were going to be grandparents. My children met their "Cappy" at Arlington National Cemetery, toddling between the rows of hundreds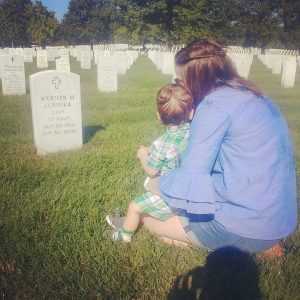 of thousands of Veterans. The last Monday in May isn't "Race Weekend" for me; it's a fresh reminder of my grief, a palpable feeling that I wouldn't wish on anyone. Do I expect everyone around me to have the same feelings? No, certainly not. We are here though, the Gold Star Family Members that have been left behind, grieving as the fireworks blast overhead.