It is officially football season! We are so excited to chat all things football with our very own Indianapolis Moms contributor, Amanda Hauser. Amanda and her family have been involved in football for many seasons and talks to us about how the game has positively impacted her family. This post is in partnership with Future for Football, a National Football Foundation initiative that promotes sportsmanship, leadership, and the lifelong lessons taught by the game.
---
Let's begin by having you introduce yourself to the Indianapolis Moms audience. Tell us a little bit about yourself!
Amanda is a Westfield mother of eight children, with ages ranging from four years old to 23 years old. She is an educator in the community as well as a writer for Indianapolis Moms and other local Indianapolis publications. She has also published a Christmas-themed series of children's books, called Impish the Elf, that delights little children during the holiday season. "I'm just kind of loving life in all seasons right now," says Hauser.
Football has been a large part of your family for many years. Share with us a bit about your football journey!
Football has been a part of the Hauser family life for nearly two decades, with both sons growing up playing football as well as their eldest daughter. Now a college gymnast, she started out as a football player. "I think she got a lot of her grit and determination from those early formidable football years," says Hauser.
The Hauser kids began with flag football and moved up to tackle football in early elementary school. It was an instant passion for them. If they weren't on the field, they had nerf footballs in their hands. A few years later, they began travel football in the Westfield community, which led to outside football camps to "7 on 7" tournaments throughout the country. They even experienced college camps and then ultimately college football. Their younger son Micah was named Mr. Football Running Back for the state of Indiana.
"Those early years really provided endless opportunities for our boys, to not only travel the country and meet a variety of other players and coaches who really pushed them and challenged them to grow their skills, but in the long run, it paid for their education," says Hauser. "Both boys are going to college or went to college for free. Football opened those doors for them and its going to take them great places. I would not surprise me if they both ended up coaching in the end."
As a parent, what is one of the most important lessons that YOU have learned from the football community?
There are so many, says Hauser. But after talking with her son Micah about it, they agreed that football has taught them that as a family, you put your ego aside. "Football really encourages the individual and the family to put on a great amount of humility," says Hauser. "It is a game you cannot play by yourself. It is a team mentality through and through." Hauser continues by saying that their successful moments in football are from the team's closeness on and off the field. Each member is valued for the role they play. Hauser sums it up by saying, "None of us can do what we're doing unless everybody does what they're supposed to do."
When you hear the word football, what are 3 words that come to mind? And why did you choose those 3 words?
Family. Touched on in the last question, football is all about family, teamwork, and working together. That hard work, done together, carries you into your home life, your classroom, and your community.
Competition. Hauser explains that healthy competition with yourself is crucial to play with a team. It's not always about the wins or losses, but each player should ask themselves, "How can I do better?" Hauser says, "Competing with yourself and making yourself better for other people is the real win."
Grit. Football teaches grit and tenacity for anyone that puts themselves out on that field, says Hauser. It's a very physical sport but our kids can do a lot more than we give them credit for. Hauser's son Koby talked about how so much of the physical component is in your mind. Your body can do way more than you allow it to, and it's your mind that holds you back from doing the tough things. Hauser jokes by saying that if you can get yourself through an August two-a-day practice in Indiana, you can do anything!
What is one thing you would tell or do tell families that are in football right now or plan to play in the future?
"Size doesn't matter. Heart matters," says Hauser. She explains that when her two boys were growing up and playing youth football, they were late bloomers. They didn't catch up to the other boys during puberty as quickly as they would hope, and it was frustrating to Hauser and her husband to see them pigeonholed in the sport. She advises new football families that size does not matter in the sport, and do not let anybody try to talk you out of football just because your child is small now. They will catch up. And while they're catching up, that's where the grit and tenacity come in.
Visit FutureForFootball.com to find a league near you and for other helpful resources.
---
Check out the full interview here and learn more about Future for Football:
---
About Future for Football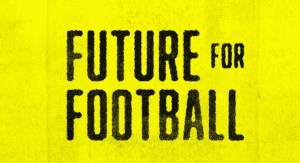 Future for Football is National Football Foundation initiative that promotes sportsmanship, leadership, and the lifelong lessons taught by the game. #makeyourplay