This post is dedicated to my Mother, Vivian, the effortless style star and self-proclaimed introvert. Mommy has been a Mom and wife for the better part of her life. Sacrifices were made, dreams were put on hold and Mommy put her best foot forward in taking care of her family. My Mother had me when she was 22 and my brother when she was 31 and she was admittedly "in a different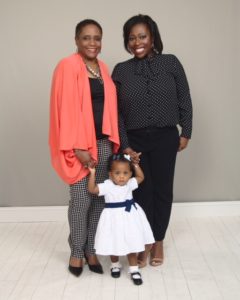 head space" both times. She speaks of becoming a Grandmother and the feelings of euphoria that every Grandmother feels when you finally have Grandchildren. What I realized from our conversation is that we are the fortunate ones to benefit from her sacrifice, so I wanted this conversation to be honest and transparent (two things that my Mother has never really had a problem being). However, some of her answers shocked me because these are things that my Mom has never discussed openly. I also wanted it to be honorable, I wanted her to look at our conversation as a time that she could open up to me and once we began to talk, the dynamic shifted. My Mom became the Sensei and I wanted to absorb as much knowledge as possible, because everything she said made sense to 36 year old me, even if it didn't make sense to 16 year old me. I am grateful for her advice and willingness to be open because my Mother, Vivian, has been in the parenting game for almost 40 years, so I know factually she has done something right.
Mommy are you excited for our conversation?
Mommy: Sure. I don't know why you are choosing to interview me.
Me: It's Mother's month
Mommy: (chuckles)
Mommy, what how did you feel when you found out you were expecting Time 1 and Time 2?
Mommy: Time 1: I thought my world was coming to an end, I was only 22 so you pretty much feel that you have to throw your dreams out of the window. I soon found out that wasn't true, because once you were here I had a village. I had Granny, and my sisters and your Dad to help and I loved you so much. Time 2: I cried but not tears of joy!!!!!!!! It was a surprise and I had a 9 year old I had no clue what was going on, so to say the least I was not prepared either time.
Me: But you persisted.
Mommy: Of course, I was extremely excited and fortunate to be both you and Stephen's Mommy
What is your scariest Mom moment?
Mommy: When Stephen was about 3 months and he stopped breathing because we discovered that he had asthma. Also one time you were out with your friends, and I had to pick you all up. The police blocked the street and I couldn't get to you. The scariest thing in the world is not being able to get to your children.
In 2016, you lost your Mother, what is the best advice you received from Granny?
Mommy: Yes, that first Mother's Day was brutal, I was so sad. I miss her terribly, but Granny left me with a lot of advice. The main one is to keep your kids close, don't let them veer too far off, it is harder to get them back.
What is your Proudest Mom moment?
Mommy: Watching both of you graduate from college that was so exciting. But, I think I am even prouder that I didn't have a lot of problems from you or Stephen which is the biggest blessing.
How do you define self-care?
Mommy: Going to a library, having dinner by myself, going to read a book. Being a Mother is hard, so taking some time to yourself is imperative so step away if you need too.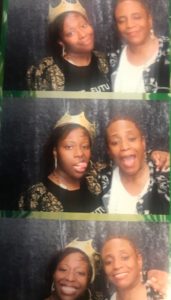 What is your greatest quality as a Mom?
Mommy: I am a strict disciplinarian
Me: Not anymore you aren't, you just gave Weslie cake at 10:00 p.m.
Mommy: That is my answer (shrugs).
When are you the happiest?
Mommy: Playing with my Grandchildren of course. They have given me a whole new perspective on life. I also love playing with puppies.
Let me be self-indulgent for a minute, how do you think I am doing as a Mother?
Mommy: Amazing!!! I am so proud of you. You are very forward thinking which a good and a bad thing. I don't get the need for alkaline water and turkey meat.
Me: Really Mommy….never mind….Thank you.
Mommy: That is new age, but I am always so proud to watch you with your children.
Me: I learned from the best!
Mommy: Oh Dee, I really appreciate that.
Last question which one of us is your favorite: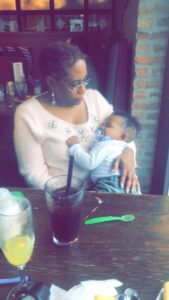 Mommy: This is popular right now, I plead the 5th!