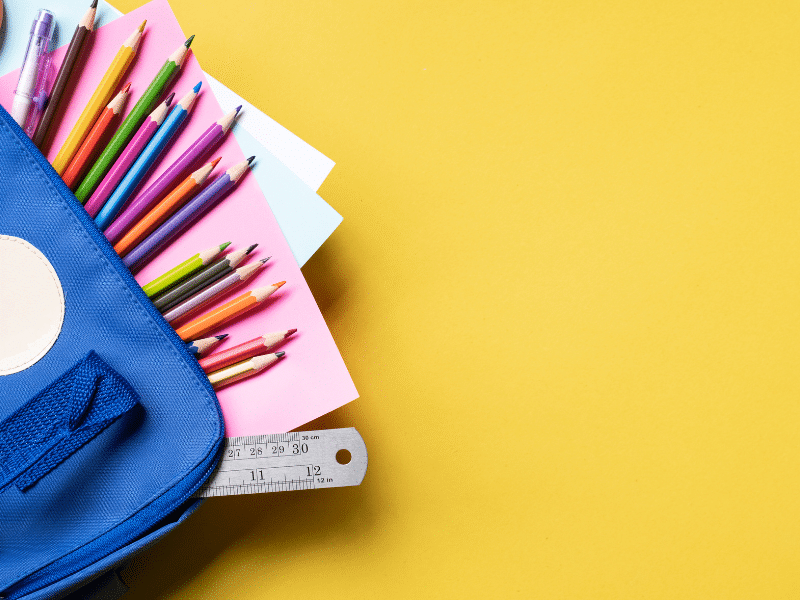 It's time for back to school, which means it is time for social media to fill up with cute "first day of school" pictures of kids dutifully lined up, backpacks on, smiling at the camera. I love these pictures and all the variations of signs parents make (or buy). I think the handwritten signs with the year and grade written on them are just as special as the boards with more details about the kids (What do they want to be when they grow up? How many teeth have they lost?). But I know as I scroll, social media comparisons and mom guilt can tarnish this sweet tradition. So, here's a start-of-the-school-year PSA for whoever needs to hear it: Your first day of school pictures don't have to be fancy.
You have permission to handwrite the sign on a piece of printer paper. You don't have to have good handwriting. You don't even need a sign! I love using a little chalkboard (and then running around frantically on the first day looking for chalk to write the year on the board).
You don't have to bribe your kids to have their best smiles. You don't have to push clutter out of the background of your pictures frantically. You can do them a few days late (or early)—the first day of school is crazy enough as it is!
And if you like fancy, fun pictures, take them! Capturing more details about your kids in that unique moment in time is special. Maybe being a Pinterest Mom brings you joy (I can definitely relate to that when it comes to birthday parties). If so, take the pictures!
At the end of the day, if you want to capture this memory, if you love the comparison of how crazy-fast they've grown from the first day to the last day, then take the picture and don't worry about what everyone else is doing. Post it or don't post it. Enjoy others' pictures or scroll past them without comparing them to your own. Celebrate the excitement and everything else that comes with your kids continuing to reach milestones and grow and learn. And maybe celebrate a little that school is starting again and your days of getting your kids 15 snacks a day are over (until Fall Break that is…).