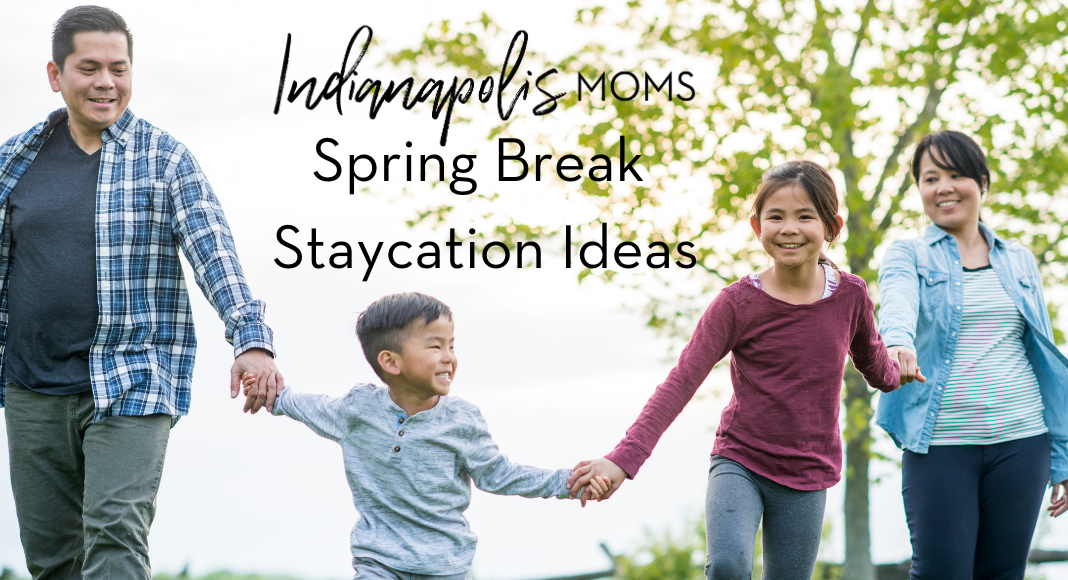 We did it, friends. We made it through another winter! With spring coming, you may have thought about your Spring Break plans. If you have decided to stay home, you're not alone. But you don't have to travel far to have a good time – you can explore Indianapolis. See Circle City during Spring Break with us! We have fun staycation ideas for you and your family this spring. You can have fun right here at home!
Local Parks and Playgrounds
Pack the kids up and make a day of visiting local parks and playgrounds. You could even plan a picnic outing with friends! Check out our post on all of our local parks to enjoy here.
Local Restaurants
Once the weather stays warm, you'll finally be able to start enjoying your meals outside without having to bundle up. Some restaurants may still have their fun winter igloos and greenhouses available to dine in. Or you can enjoy a meal on their outdoor patio area. Check out our guides on the best kid-friendly restaurants here, kid-friendly breweries here, and our round-up of Indy's best gluten-free friendly restaurants here!
When it Rains, it Pours Fun!
You know the saying "April showers bring May flowers" so there's no doubt we will experience some rainy days ahead. Here is a post on some rainy day activities to keep you entertained. In 2020, we created the ultimate guide to surviving the quarantine with kids and this roundup is still perfect for indoor family fun! Also, check out this post on building an emergency quarantine play box, perfect for bad weather days.
Birdies
Kill two "birdies" with one stone (see what I did there) and check out Birdies in Westfield! We love taking an afternoon to play miniature golf as a family and then having lunch or dinner at the Birdies Grillhouse and Sports Bar. You do not need to make a reservation to play mini golf.
Escape Rooms
There are now multiple escape room businesses in town that are practicing safe, covid-friendly measures. Instead of sitting in front of your TV or computer to play games this Spring Break, try out these fun adventure games in Indianapolis. Players solve puzzles and locate clues together resulting in great laughs with your teammates while you play. It is a fun activity for all ages, in any weather condition and for any occasion.
Breakout | Escape the Room Indy | Twisted Room Escapes | The Escape Room
Indy Fuel
The Indy Fuel is an excellent option for our sports-loving families this spring break. The whole experience is family-friendly, not to mention the affordable ticket prices! Their promotional schedule allows for additional family fun. Check out their full schedule and purchase tickets online here.
Indianapolis Indians Opening Day
Our beloved Indianapolis Indians are back in action beginning March 31st. Opening Night for the Indians begins at 7:05 pm and for this season opener, the first 1,000 fans to arrive at the gates of Victory Field gets a free toboggan beanie hat!
Selfie WRLD
The first Selfie WRLD is open in Indianapolis and you must experience it during Spring Break! The interactive exhibits allow you and your family to take fun, instagrammable selfies to remember forever. They are open Tuesdays through Sundays and you can purchase your tickets ahead of time on their website.
Conner Prairie
Conner Prairie offers a lot of fun historical experiences. Whether you have to wear a jacket or not, there is plenty of space to explore outside! Click here for more information to plan your next visit.
Indianapolis Zoo
The Indianapolis Zoo is an Indianapolis staple for family fun and exploration. Make sure you check out information about the xZOOberance Spring Festival this year. This spring festival offers 16 days of fun, starting on March 23rd.
The Indianapolis Children's Museum
The Indianapolis Children's Museum's popular Riley Children's Health Sports Legends Experience will reopen March 18th, and there is plenty of space to explore with your family. Make a day of it! If it's a rainy day, head indoors and check out their new Minecraft Exhibit.
Geist Waterfront Park
On March 18th, the Geist Waterfront Park opens and this is a great option for beautiful spring days! This brand new beach and waterfront park is free to Fishers residents and includes the following features: a beach, walking trails, open green space, and a non-motorized boat launch perfect for kayaks, canoes, and paddleboards. And they are currently hiring certified lifeguards!
Family Game Night at IndyPL
You know about the storytimes at your local public library, but did you know they also host family game nights? Check out Family Game Night at multiple IndyPL locations and have fun as a family!
Hit the (Indoor) Pool
Though we aren't exactly ready for summer pool time in Indiana yet, there are indoor pools across the city that have family swim times allowing us to feel the warmth in the water this spring break! Check out Indy Parks for some of their offerings, such as the Indy Island Aquatic Center located at Raymond Park. The indoor pool and aquatic center are open and they update their Facebook page often if sessions have reached capacity. For more information, visit the Indy Island Facebook page. Other indoor swimming facilities include the Monon Community Center and Thatcher Park Family Center.
Indoor Play Areas
When the days are too gray and rainy to head outside, check out our guide to indoor play areas in and around Indianapolis.
School's Out Days
Both the Indianapolis YMCA and JCC Indy are offering spring break camps for children in the area! YMCA has locations across the city will have fun with classic camp activities both inside and out, like arts and crafts, science and cooking projects, swimming, guest speakers, and field trips. Check out the area locations here and register online. At the JCC, spend Spring Break with safe, healthy, 100% social interaction for youth in grades K-5. Check out their Facebook event for more details on when they are closed in observance of Passover.
Spring Break Art Camps
If your children are art lovers, check out these local options for your creative kiddos. The Indianapolis Art Center is offering spring break camps. The spring break camp is modeled after their popular summer camps and includes painting, drawing, hand-built ceramics, and sculpture. The IKEA in Fishers is once again hosting Kids' Academy events! Children 12 and under are invited to take part in these free, fun-filled workshops designed for the youngest IKEA visitors, while supplies last. Show your IKEA FAMILY card, or sign up in-store to participate. Various dates and times are available. For more information visit the website here.
Share with us! How do you plan on spending your Spring Break this year?